<< More coverage from ACC 2014
Top News From ACC 2014: Slideshow
Megan Brooks; Tricia Ward; Darbe Rotach; Allison Shelley; Shelley Wood; Steve Stiles; Michael O'Riordan; Lisa Nainggolan
April 14, 2014
Key research presented at this year's sessions include:
HEAT-PPCI: Heparin beats bivalirudin in STEMI, amid heated debate
High-sensitivity hs-troponin again shows promise for MI rule-out
STAMPEDE: Bariatric surgery clearly better than drugs in obese diabetics
PCSK9 inhibitors: Presentations generate excitement, overflow crowd
CORP 2: Colchicine cuts multiple recurrences of pericarditis
CHOICE: Sapien bests CoreValve for 'device success'
MADIT-CRT: CRT survival gains in mild HF durable at seven years
REGARDS analysis answers critics of new CV-risk equations
CoreValve High-Risk Study: CoreValve beats high-risk surgery for AV stenosis
SYMPLICITY HTN-3: End of the road for renal denervation?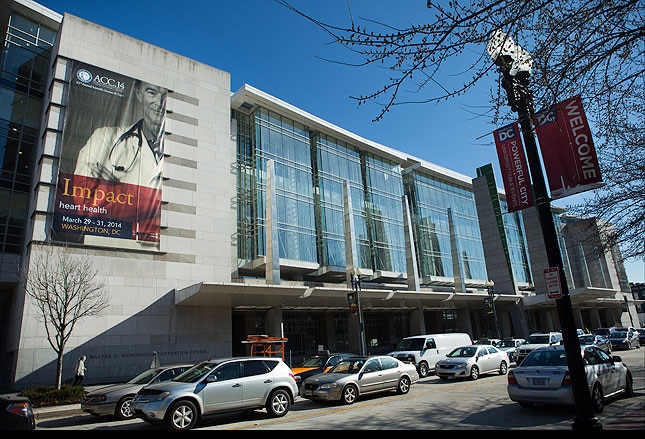 HEAT-PPCI: Heparin Bests Bivalirudin in STEMI, Amid Heated Debate
In a single-center randomized trial of heparin vs bivalirudin (Angiomax, the Medicines Company) with bailout GPIIb/IIIa-inhibitor use in STEMI patients undergoing primary PCI, use of heparin rather than bivalirudin was associated with reduced major adverse cardiac events (MACE), fewer stent thromboses and reinfarctions, and no difference in bleeding complications. Heparin was given as a bolus dose of 70 units/kg preprocedure, while bivalirudin was given as a bolus of 0.75 mg/kg, followed by infusion of 1.75 mg/kg per hour for the duration of the procedure. The results, delivered on the last day by Dr Adeel Shahzad (Liverpool Heart and Chest Hospital, UK), generated heated debate, as did the novel trial design, which used delayed consent.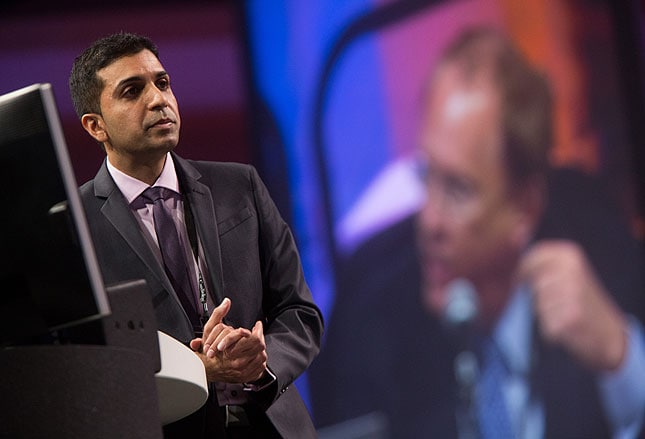 In Chest Pain, hs-Troponin Again Shows Promise for MI Rule-Out
Emergency physicians in Sweden used a high-sensitivity troponin assay to test >14 000 consecutive patients presenting with chest pain and found that virtually everyone with no detectable levels on their first assay—plus an ECG without signs of ischemia—could be safely ruled out for acute MI, reported Dr Nadia Bandstein (Karolinska University Hospital, Stockholm, Sweden). Dr Prediman K Shah (Cedars-Sinai Medical Center, Los Angeles, CA) cautioned that one can't make conclusive recommendations on the MI rule-out value of the particular hs-cTnT assay. This "would not be practice-changing quite yet, unless prospectively validated," he said.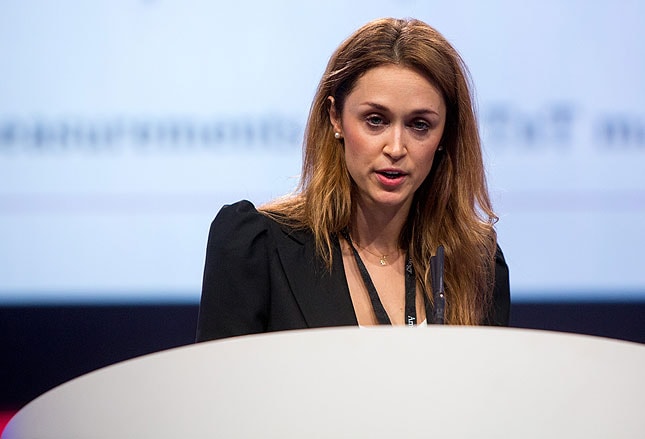 STAMPEDE: Bariatric Surgery Betters Meds in Obese Diabetics
Bariatric surgery is better than intensive medical therapy alone for glycemic control in obese type 2 diabetic patients, according to three-year results from the STAMPEDE trial reported here, with simultaneous publication in the New England Journal of Medicine. The results "add to some fairly convincing evidence that surgery is superior to medical treatment for type 2 diabetes in terms of the classic end point of therapy that doctors use around the world, and that is blood sugar control," said lead author of the study, Dr Philip Schauer (Cleveland Clinic, OH).
Image from Science Source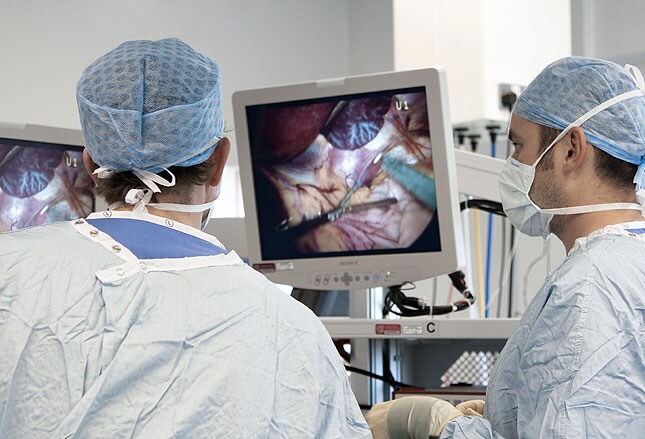 Dana Carvey Honored With CardioSmart Patient Advocate Award
Comedian, actor, and philanthropist Dana Carvey was honored during the general opening session for his work in bringing awareness to early detection and prevention of heart disease by sharing his own heart health story and supporting national efforts to prevent heart disease. Carvey, who suffered a heart attack at age 42 and underwent multiple interventions, including CABG surgery, more than 15 years ago (that he later deemed "botched," settling out of court), is a patient of ACC 2014 program cochair Dr Prediman K Shah (Cedars-Sinai Medical Center, Los Angeles, CA).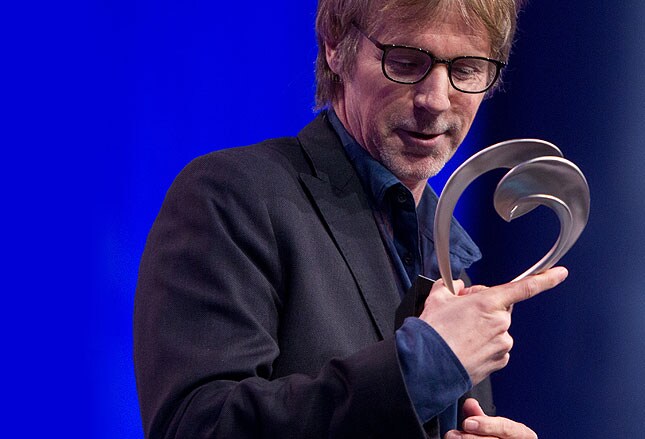 PCSK9 Inhibitors Showing Big Results in Early Trials
This year's meeting included several standing-room-only sessions devoted to the new inhibitors of proprotein convertase subtilisin-kexin type 9 (PCSK9), with multiple studies showing the effectiveness of evolocumab (Amgen, Thousand Oaks, CA) at reducing LDL-cholesterol levels in various patient populations, as well as other presentations devoted to alirocumab (Regeneron Pharmaceuticals, Tarrytown, NY) and bococizumab (Pfizer, New York). Dr Peter Libby (Brigham and Women's Hospital, Boston, MA), who was not involved in the trials, called the PCSK9-inhibitor story "remarkable" but noted that the ultimate proof will come down to the large-scale safety-and-efficacy studies of these drugs.
Image from Wikimedia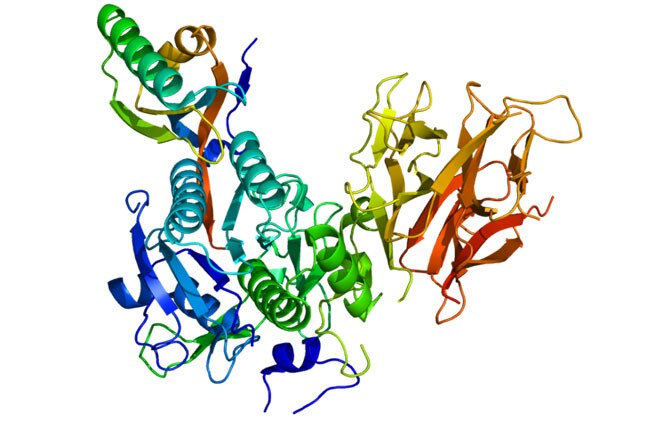 Colchicine Cuts Multiple Recurrences of Pericarditis: CORP 2
Colchicine plus conventional therapy reduces pericarditis recurrence in patients with multiple previous episodes, according to results from the multicenter, double-blind, placebo-controlled CORP 2 study. At six months, pericarditis had recurred in 21.6% of colchicine-treated patients and in 42.5% of placebo-treated patients (p=0.0009). According to study chief Dr Massimo Imazio (Maria Vittoria Hospital, Turin, Italy) who presented CORP 2 with simultaneous publication in the Lancet, "Colchicine should be considered as a first-line treatment for either acute or recurrent pericarditis in the absence of contraindications or specific indications."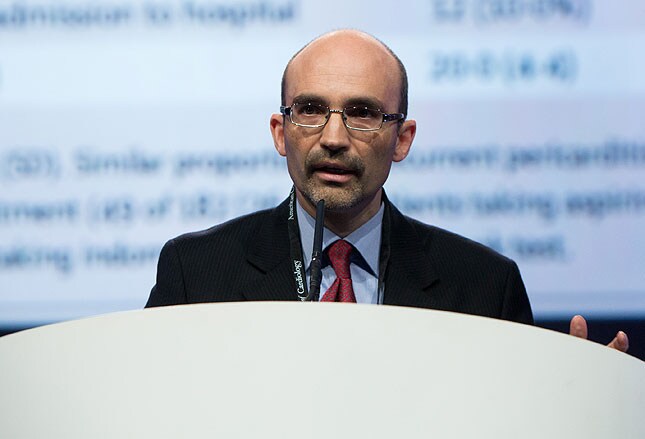 CHOICE: Sapien Bests CoreValve for 'Device Success'
In a small head-to-head trial looking at two FDA-approved transcatheter aortic-valve devices, the balloon-expandable Sapien device topped the Medtronic self-expanding CoreValue device. The CHOICE trial, presented by Dr Mohamed Abdel-Wahab (Segeberger Kliniken, Bad Segeberg, Germany), did not evaluate hard clinical outcomes but instead focused on "device success"—defined by the Valve Academic Research Consortium as successful vascular access and deployment of the device and retrieval of the delivery system, correct position of the device, and performance of the heart valve without moderate or severe regurgitation. The results clearly show "device success" favoring the Sapien, but they "should not be interpreted as a surrogate for long-term outcomes such as death, stroke, and quality of life," write Drs E Murat Tuzcu and Samir Kapadia, (Cleveland Clinic, OH) in an editorial in JAMA, where the results were published to coincide with presentation.
Images courtesy of Edwards Life Sciences (L); Medtronic (R)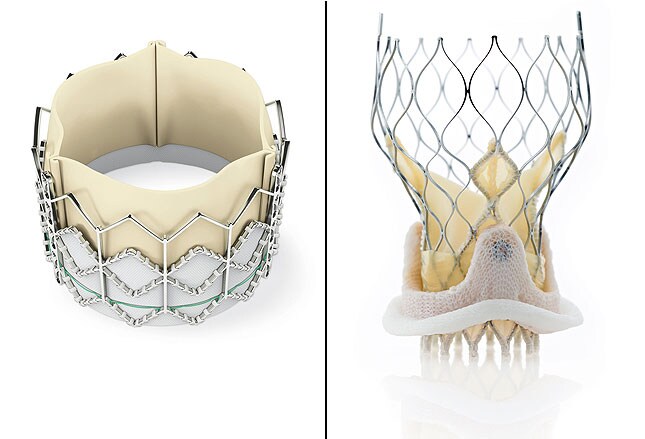 MADIT-CRT: CRT Survival Gains in Mild HF Durable at Seven Years
Cardiac resynchronization therapy (CRT) can be a long-term fix for patients with mild heart failure, provided that they have left-bundle-branch block (LBBB) along with their reduced LV ejection fractions and other indications for the pacing therapy, hints a seven-year follow-up analysis from the MADIT-CRT study. But there were no such benefits from CRT among the trial's patients without LBBB, and in fact they may have shown an increase in all-cause mortality, noted study presenter Dr Ilan Goldenberg (Sheba Medical Center and Tel Aviv University, Israel). Dr Allan S Jaffe (Mayo Clinic, Rochester, MN), who wasn't involved in the study, commented, "I think this long-term follow-up has nailed the question down at last. At least for now, the way we do [the procedure], LBBB is where the benefit is."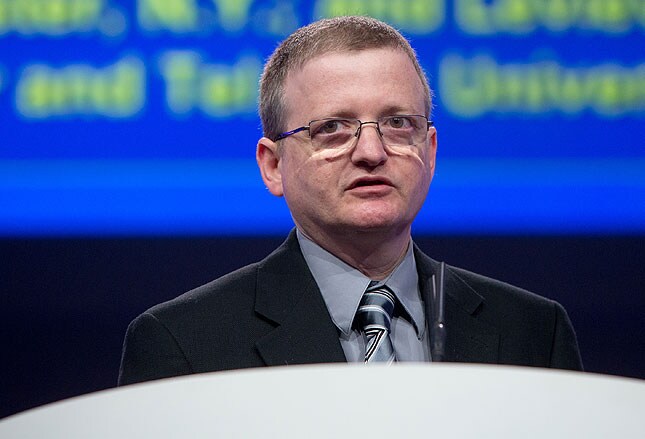 REGARDS Analysis Answers Critics of New CV-Risk Equations
The controversial risk equations recently introduced in the 2013 ACC/AHA guideline on the assessment of cardiovascular risk may be a more accurate predictor of atherosclerotic CV-disease events than its critics claim. When Dr Paul Muntner (University of Alabama at Birmingham) and colleagues applied the "pooled-cohort" risk equations to a contemporary cohort of people not on statins and without standard statin indications, its risk predictions were similar to observed event rates. The analysis was reported here, with simultaneous publication in JAMA. However, Dr Paul Ridker (Brigham and Women's Hospital, Boston, MA) remains critical: "In the new Rotterdam data and in the reanalysis of the REGARDS data as a whole, the ACC/AHA calculator overestimated risk and calibrated poorly, quite consistent with prior studies," he told heartwire.
Image courtesy of American College of Cardiology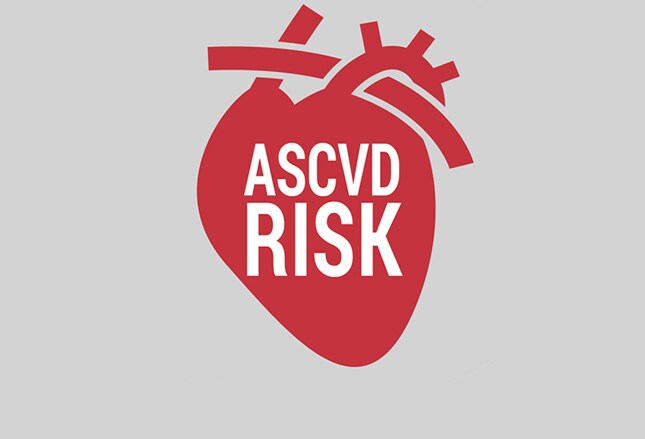 Celiac Disease Linked to Almost Doubled Risk of CAD
People with celiac disease are almost twice as likely to have CAD as the general population, according to a large retrospective study presented here. The investigators examined electronic health records of patients from 13 healthcare systems seen between January 1999 and September 2013. From nearly 22.4 million patients, they identified 24 530 diagnosed with celiac disease. The study highlights a specific patient population that might be at higher risk of CAD, even in the absence of traditional CV risk factors, said coinvestigator Dr Rama Dilip Gajulapalli (Cleveland Clinic, OH). "Primary-care physicians, gastroenterologists, and [other] healthcare practitioners need to be mindful of their celiac patients; they have to be on the watch for probable cardiac diseases," he added.
Image from Thinkstock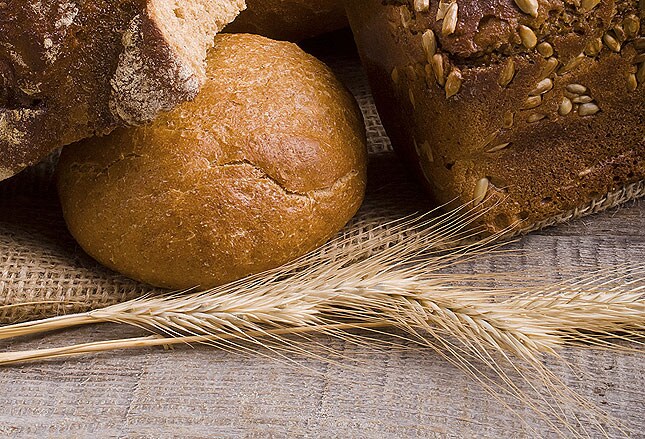 CoreValve High-Risk Study: CoreValve Beats High-Risk Surgery for AV Stenosis
Patients with severe aortic stenosis at high surgical risk had significantly higher one-year survival when treated with the CoreValve (Medtronic) self-expanding transcatheter aortic valve than with surgery, the pivotal trial studying the device in this patient population has found. Dr David H Adams (Mount Sinai Medical Center, New York, NY) presented the data, which were simultaneously published in the New England Journal of Medicine. As expected, permanent pacemaker implantation was higher in the CoreValve-treated patients. Commenting on the findings, Dr Timothy Gardner (University of Pennsylvania School of Medicine, Philadelphia) noted that "the superiority claim was on thin ice statistically, but noninferiority was pretty solid."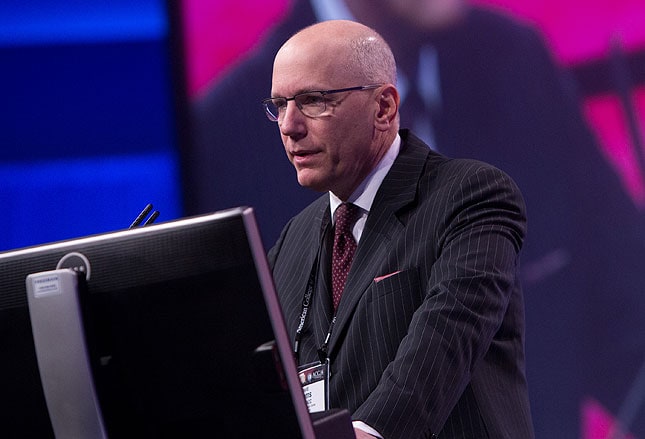 SYMPLICITY HTN-3: Renal Denervation Fails in Major Study
The renal-denervation train has come to a "grinding halt" with the negative result from SYMPLICITY HTN-3, write Dr Franz Messerli (Icahn School of Medicine, New York City) and Dr Sripal Bangalore (New York University School of Medicine, New York City) in an editorial appearing alongside the study, published in the New England Journal of Medicine to coincide with the trial's presentation here. Given the negative results, study leader Dr Deepak Bhatt (Brigham and Women's Hospital, Boston, MA), who presented the results, said he would be very cautious about recommending this procedure, which is investigational in the US but approved in more than 80 countries worldwide. Not 24 hours later, Dr Michael Böhm (Saarland University Hospital, Homburg/Saar, Germany) shared positive data on the first 1000 patients included in a prospective, open-label, multicenter, international registry (the Global SYMPLICITY Registry) during a late-breaking session, keeping hope alive for the procedure.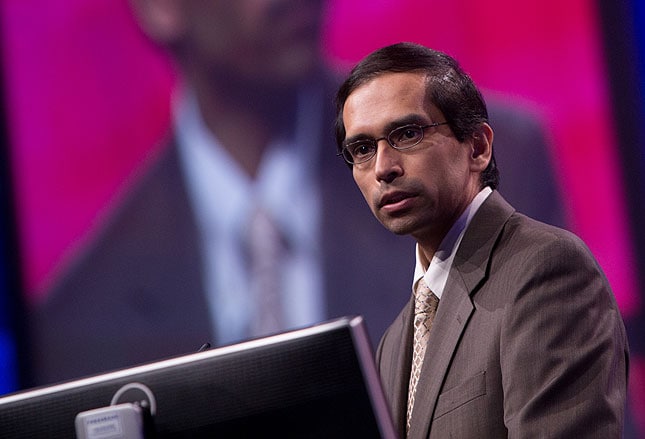 One-Third of Texas Children Tested Have Borderline or High Cholesterol
One in three children in Texas undergoing routine lipid screening have cholesterol levels considered high or borderline high, according to one of the largest studies of outpatient pediatric clinic visits to date. Dr Thomas Seery (Texas Children's Hospital, Houston) and colleagues examined the medical records of 12 712 children who had screening for cholesterol levels as part of a routine physical exam within the Texas Children's Pediatrics Associates clinics. "Kids need to have their cholesterol panel checked at some point during this timeframe [9 to 11 years old]," Seery said. "In doing so, it presents the perfect opportunity for clinicians and parents to discuss the importance of healthy lifestyle choices on cardiovascular health. Our findings give a compelling reason to screen all kids' blood cholesterol."
Image from Thinkstock