8 Ways to Keep Cancer Survivors Healthy
Laura A. Stokowski, RN, MS; Nancy Terry
September 24, 2013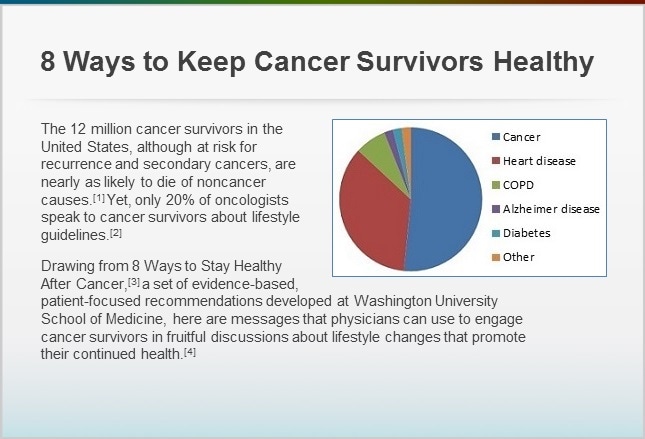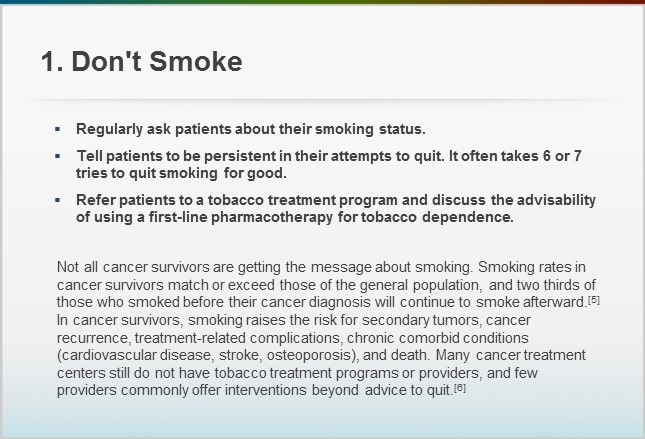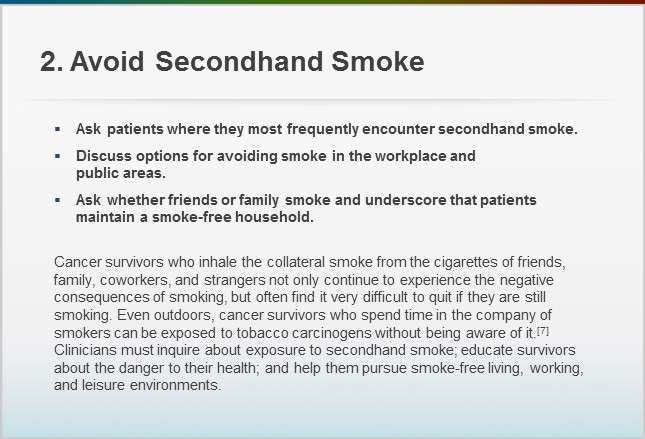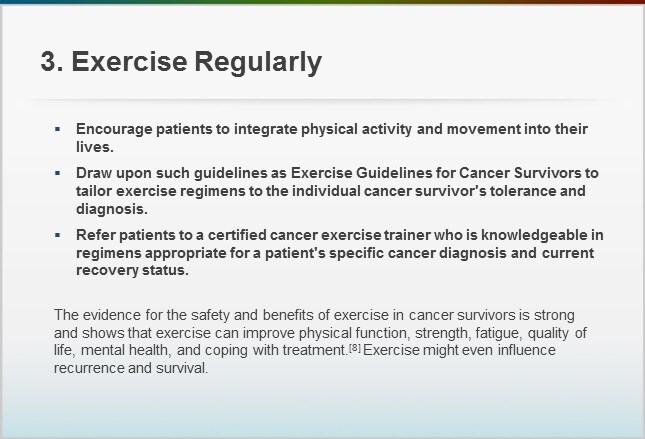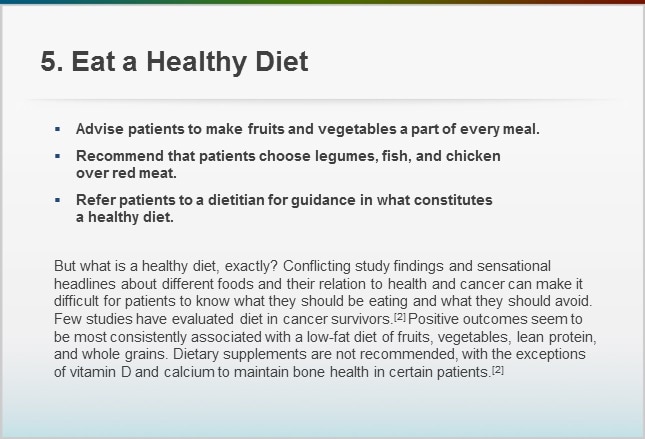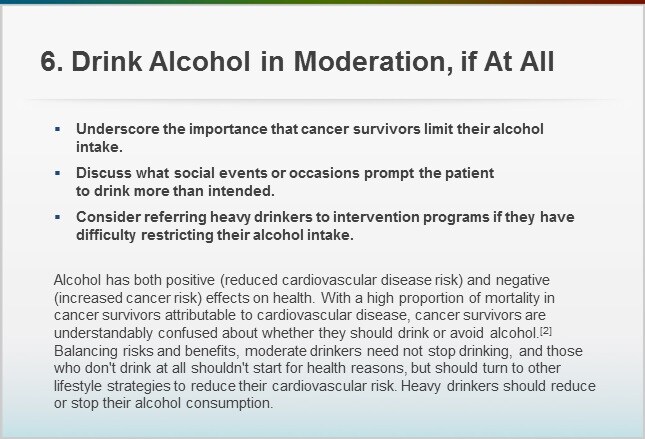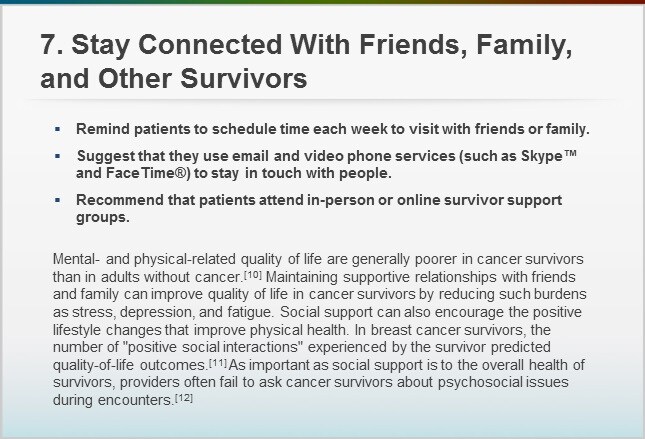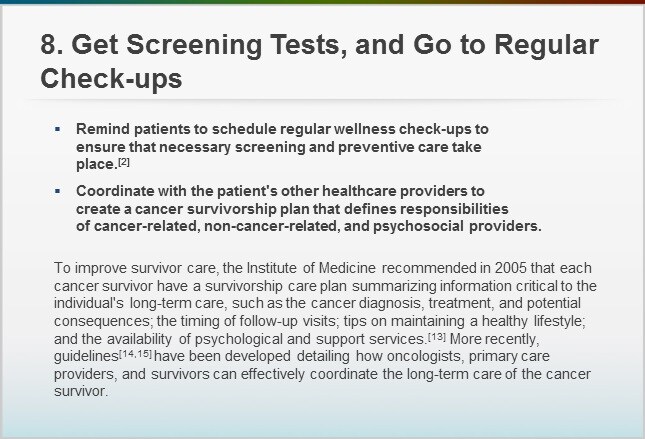 References
Ning Y, Shen Q, Herrick K, et al. Cause of death in cancer survivors. Program and abstracts of the American Association for Cancer Research (AACR) 103rd Annual Meeting; March 31-April 4, 2012; Chicago, Illinois. Abstract LB-339.
Wolin KY, Dart H, Colditz GA. Eight ways to stay healthy after cancer: an evidence-based message. Cancer Causes Control. 2013;24:827-837.
Siteman Cancer Center at Barnes-Jewish Hospital; Washington University School of Medicine. Eight ways to stay healthy and prevent cancer. http://cancermedia.org/files/scc_8waysbrochure-small.pdf Accessed July 3, 2013.
Politi MC, Wolin KY, Légaré F. Implementing clinical practice guidelines about health promotion and disease prevention through shared decision making. J Gen Intern Med. 2013;28:838-844.
Tseng TS, Lin HY, Moody-Thomas S, Martin M, Chen T. Who tended to continue smoking after cancer diagnosis: the National Health and Nutrition Examination Survey 1999-2008. BMC Public Health. 2012;12:784.
Weaver KE, Danhauer SC, Tooze JA, et al. Smoking cessation counseling beliefs and behaviors of outpatient oncology providers. Oncologist. 2012;17:455-462.
St. Helen G, Bernert JT, Hall DB, et al. Exposure to secondhand smoke outside of a bar and a restaurant and tobacco exposure biomarkers in nonsmokers. Environ Health Perspect. 2012;120:1010-1016.
Wolin KY, Schwartz AL, Matthews CE, Courneya KS, Schmitz KH. Implementing the exercise guidelines for cancer survivors. J Support Oncol. 2012;10:171-177.
Swift JA, Choi E, Puhl RM, Glazebrook C. Talking about obesity with clients: preferred terms and communication styles of U.K. pre-registration dieticians, doctors, and nurses. Patient Educ Couns. 2013;91:186-191.
Weaver KE, Forsythe LP, Reeve BB, et al. Mental and physical health-related quality of life among U.S. cancer survivors: population estimates from the 2010 National Health Interview Survey. Cancer Epidemiol Biomarkers Prev. 2012;21:2108-2117.
Kroenke CH, Kwan ML, Neugut AI, et al. Social networks, social support mechanisms, and quality of life after breast cancer diagnosis. Breast Cancer Res Treatment. 2013;139:515-527.
Forsythe LP, Kent EE, Weaver KE, et al. Receipt of psychosocial care among cancer survivors in the United States. J Clin Oncol. 2013;31:1961-1969.
ASCO issues recommendations for improving cancer survivor care in the United States. January 7, 2013. http://connection.asco.org/Magazine/Article/ID/3418/ASCO-Issues-Recommendations-for-Improving-Cancer-Survivor-Care-in-the-United-States.aspx Accessed July 22, 2013.
Hewitt M, Greenfield S, Stovall E. From Cancer Patient to Cancer Survivor: Lost in Transition. Washington, DC: The National Academies Press; 2005.
Denlinger CS, Carlson RW, Baker KS, et al; National Comprehensive Cancer Network. NCCN Clinical Practice Guidelines in Oncology: Cancer Survivorship. Version 1.2013. Fort Washington, Penn: National Comprehensive Cancer Network; 2013. http://www.nccn.org/index.asp Accessed July 22, 2013.