Defining Your Staff Recruiting Needs
You may need to recruit for a staff position when your practice volume grows; when you add new clinicians, who require support; or, most often, when a current employee resigns. When you know an important position must be filled, it's natural to switch immediately into recruit mode. However, taking the time to plan your strategy will help you make a much better hiring decision.
First, examine and clarify the existing needs for this position. Even if you are replacing an employee who is leaving, your needs may have changed. Consider carefully the appropriate skills you want your new hire to have. Ask the exiting employee to help you examine the existing position description to determine whether the skills or primary responsibilities have changed. New technology, growth in business volume, or outsourcing some activities may have changed the nature of the work and the skills required.
Once you've determined how the job has changed—or, in the case of a brand-new job, identified all the key responsibilities and skills needed—edit or create a job description to guide your search for an employee who meets these requirements.
Attracting the Right Candidates
Supply and demand will affect your candidate search. There may be times when the pool of people looking for work is large, and you'll have lots of choices. There will also be times when the market is very tight and recruiting yields few suitable applicants—and in some markets, there is always very stiff competition for skilled healthcare workers. Remember to consider these market realities before beginning to recruit. Be realistic about the time it will take to find a candidate who's a strong fit.
Don't underestimate the importance of the words you use in your advertisement for the position. Be concise and purposeful in your description of the position. Be clear about the position you need to fill, and cast the position in the best light.
For example, when explaining the work setting, saying the practice is "busy and demanding" is quite different from stating you have a "dynamic and robust" practice. The first implies being overworked, and the second indicates an exciting opportunity.
When describing the position requirements, be precise about your expectations and the job requirements, so that you're not inundated with responses from people who aren't qualified.
There are many ways to reach job-seekers. These days, almost all job advertising is done online—and there are many excellent options. National career sites, such as Indeed, ZipRecruiter, and Monster, allow you to post detailed job ads, and even review banks of resumes shared by job-seekers. Look into all the services offered by these companies, to be sure you're getting the most out of your investment in job ads.
For example, in some cases, you may be able to receive a daily email of new resumes that match your position and location. Some sites also allow you to include prescreening questions, to help you eliminate candidates who are missing key skills or credentials your position requires.
Besides career sites, depending on the position, professional associations, job-focused networks, or school placement offices can be good places to post jobs and search for candidates. Groups and websites that serve practice management professionals, nurses, medical billers, and allied health professionals, among other career interests, often have job boards that are popular with their members.
Remember that there's no need to be passive in finding the right talent.
Remember, also, that there's no need to be passive in finding the right talent. Networking with your best past employees (who might be interested in coming back to your practice) or online using LinkedIn is a way to proactively find candidates who might not be actively job hunting, but still potentially interested in making a move for the right opportunity.
Screening and Selection
When applications for your open job start to roll in, sort them on the basis of how well the candidate's background matches the position and the quality of the presentation.
A well-prepared candidate will provide a clear, concise, and well-written resume. A cover letter shows extra effort and interest, and may provide evidence of desirable "intangibles" that aren't easily expressed in a standard resume.
As a first sort, separate the resumes into three categories based on how well each job-seeker fits your needs. Have one file for the strongest candidates—the ones you are interested in interviewing; another for those who aren't obvious matches, but show potential; and finally, the candidates who miss on key requirements and can be immediately eliminated.
Prepare polite responses that can be emailed to the candidates who don't match the position. Most job search sites have helpful features that allow you to store automated responses for each situation. For candidates who are not a match at all, a simple but clear email stating that you appreciate their application, but are looking for candidates with more direct experience or different credentials will do the trick.
For candidates who show potential, a response that lets them know you're keeping their resume on file might be appropriate. Sending these responses out quickly helps avoid unwanted follow-up mail from unqualified candidates—and it burnishes your image as an employer.
Assigning a numerical rating to the candidates that seem to match best can help you prioritize the resumes for further screening. You may want to start with an email to get questions answered that were not revealed on the resume. In most cases, the interview process starts with an introductory telephone call to discuss the candidate's specific background and your practice needs.
Conducting an Effective Interview
Once you've identified candidates who seem to fit well and present well by phone, the next step is usually an in-person interview. Prepare well for it by rereading the applicant's resume and noting questions and issues you plan to discuss. Preparing a list of questions and scenarios you'd like the candidate to address can help ensure you have a productive interview.
Help the candidate to get comfortable at the start of the interview with casual conversation and introductions. This will help the candidate relax and develop a rapport with you.
Allow plenty of time for the interview. Be sure all your potential reservations are addressed. Pay attention to details. Problem-solving questions and scenarios that relate to the position will reveal the candidate's skills and approach. Ask applicants for details about their strengths and weaknesses.
Probing questions that dig deeper to gain more information are important in helping you better explore a candidate's capabilities and attitude.
Probing questions that dig deeper to gain more information are important in helping you better explore a candidate's capabilities and attitude. It will assist you in determining if the candidate is flexible and enthusiastic, or desperate and overselling his or her skills, or perhaps overqualified or overly impressed with his or her accomplishments and skills.
Pay attention to whether the applicant has good eye contact, sends positive signals or is guarded. Is he or she a good listener, or talks over and interrupts you? If at any point during the interview you decide to eliminate the applicant, ease into a polite closure so that no time is wasted for either of you.
Before making a final selection, you may want to have another leader in the organization conduct a separate interview of your lead candidate. Getting a second opinion from a trusted colleague can provide a valuable perspective.
At the end of the interview, tell the job-seeker your next steps in the hiring process. If you are ready to perform reference or background checks, make sure you have permission to proceed as well as the required information and authorization.
Conducting Reference and Background Checks
Applicants often provide letters of reference. These can be helpful, provided they include details and aren't just vague, general comments of support. Still, even if a candidate provides these letters, it's more valuable to speak with the candidate's references and prior managers.
Ideally, candidates will be able to provide contact information for their prior managers and perhaps relevant peer references as well. Some employers, especially large ones, will only confirm dates of employment and titles. Allow plenty of time to try to reach at least a few valid references and talk with them in enough detail to get a sense of their true feelings about the candidate. Prepare a set of five to seven questions to learn more about past performance, such as:
Dates employed and final position title

Attendance and reliability

Employee's greatest performance traits

Ability to get along with superiors and subordinates

If you had an opening, would you rehire?

On scale of 1 to 5, how would you rate him/her versus peers in the job held when the candidate worked with the reference?
Contacting candidates' references is not a substitute for a detailed interview process. Reference checks should only be done when you're ready to offer the candidate a position contingent on positive references, for several reasons. First, performing a thorough reference check may require many hours on your part. Second, most candidates will not provide reference information until it's clear you want to offer them a job, because their busy former managers will likely be unable to speak with more than a handful of prospective new employers.
Background checks are different from reference checks—and they're essential in any healthcare organization. Background checks involve the verification of candidates' address and legal history, education and credentials, and other key information kept in public records and other verifiable sources.
Because employees have access to confidential information about your patients and your need to comply with Health Insurance Portability and Accountability Act (HIPAA) regulations, you should perform background checks on every new hire. There are numerous reputable online services that can perform background checks for modest fees, making the process easier than ever. Automated services have made these checks so much easier, there's no excuse not to do them. Be sure to follow all state and local laws about conducting background checks and handling the information you collect to do so.
Recruiting From Within
Inviting existing employees to apply for an open position is an excellent way to reward good performance and express the confidence and respect you have for employees. It shows that management wants to support and encourage staff to grow within the practice. It can also save time and money when an employee who already knows the practice well can take on new responsibilities with a bit more training or certification.
A perfect example would be hiring for a lead biller position that requires a certified coder. If you already have a biller on staff who is a high-performing, dependable individual, investing in that employee's coding certification helps both your practice and the employee.
Another example would be recruiting for a nurse supervisor when you have an employee who is very organized and shows strong leadership potential, but lacks management training. Investing in seminars to help this employee develop management skills will allow your practice to retain a very valued employee and gain a manager who is already respected by everyone else on the team.
Knowing there is an opportunity to advance encourages employees to stay with your organization and keeps morale high.
Creating paths for upward mobility will enhance staff loyalty, while allowing you to hire someone whose performance has been proven. Knowing there is an opportunity to advance encourages employees to stay with your organization and keeps morale high. On the other hand, routinely looking outside your practice when jobs open up, rather than allowing upward mobility or even lateral moves, can erode staff morale and loyalty.
Sometimes, despite your best effort to recruit within, none of your staff applicants seem to fit. Prepare your in-house candidates for the possibility they may not be hired. Applicants within the practice need to be apprised of your hiring process: the requirement of an interview and ability, with no preference given.
If an alternate applicant is selected for the position, let your in-house applicants know you value their interest in advancing with the practice. Encourage them to continue to apply in the future, and offer tools to help them prepare for the next opportunity that arises.
Establishing the Training Criteria
You'll want to establish training guidelines (Table) that clearly define tasks the employee must learn well and the time frame for completion. This allows you to address potential staffing needs required during training sessions, so department services and outcomes are not compromised. Training programs help employees consistently perform tasks to your standard.
Table. Sample Training Guide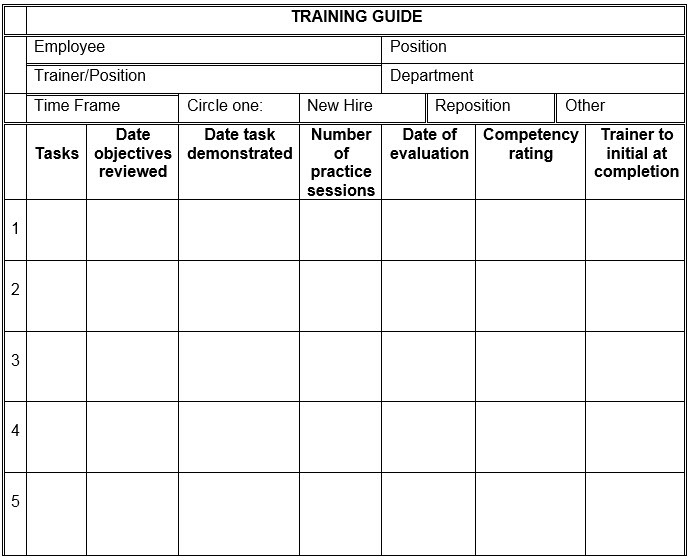 The training plan should be prepared by the manager or supervisor, along with the employee who best understands the position and will be conducting the training. This ensures training goals and tasks are appropriate and reasonable.
The direct report should meet with the trainee and the trainer at the end of each week to obtain and provide relevant feedback so that progress can continue and focus on the assignment objectives. The better the training plan, the more likely you are to achieve the desired outcome.
Review Questions