Answer
Organisms infect mucosal crypts of the large intestine that are located close to the mucosal epithelium, from the cecum to the rectum; however, the cecum and proximal colon are usually affected. This parasite is not known to be invasive and does not cause cellular damage. It may invoke an eosinophilic inflammatory response in the colonic mucosa; thus, symptoms are related to the superficial colonic mucosal irritation. Similar to some other parasites (eg, Cyclospora cayetanensis, Giardia lamblia, Cryptosporidium parvum), the parasite D fragilis has been demonstrated to cause disease in humans regardless of their immune status.
The life cycle of D fragilis is shown in the image below.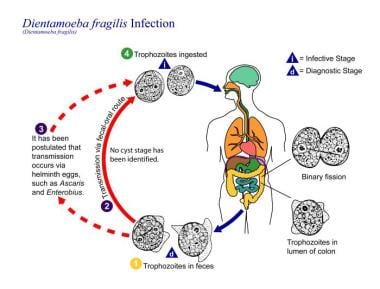 This is an illustration of the assumed life cycle of Dientamoeba fragilis, the cause of a protozoan parasitic infection.
---
Did this answer your question?
Additional feedback? (Optional)
Thank you for your feedback!