Answer
If the ear canal is severely swollen, an ear wick may be inserted to facilitate the delivery of topical medications (see the image below). The wick may be commercially prepared from a hard sponge material that expands when wet (eg, the Merocel ear wick or the Pope Oto-Wick), cut from a bigger sponge by the physician, or made from narrow gauze (0.25-in. packing works well).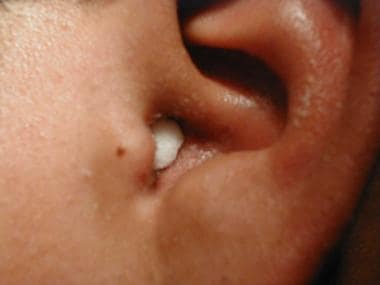 Otitis externa with ear wick in place. Note discharge from canal and swelling of canal.
After the placement of the wick in the ear canal (a process that, unfortunately, causes brief but significant discomfort), the topical antibiotic drops are placed on the external end of the wick to be carried into the recesses of the ear canal. This is done two to four times daily, depending on the recommended dosing frequency for the medication. The wick may fall out as the edema decreases. In any case, it should be removed after 2-3 days.
---
Did this answer your question?
Additional feedback? (Optional)
Thank you for your feedback!