Answer
The key physical finding of OE is pain upon palpation of the tragus (anterior to ear canal) or application of traction to the pinna (the hallmark of OE). Examination reveals erythema, edema, and narrowing of the external auditory canal (EAC), and a purulent or serous discharge may be noted (see the image below). Conductive hearing loss may be evident. Cellulitis of the face or neck or lymphadenopathy of the ipsilateral neck occurs in some patients.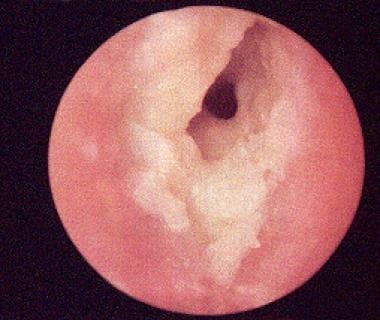 Acute otitis externa. Ear canal is red and edematous, and discharge is present.
The tympanic membrane may be difficult to visualize and may be mildly inflamed, but it should be normally mobile on insufflation. Eczema of the pinna may be present. By definition, cranial nerve (CN) involvement (ie, of CNs VII and IX-XII) is not associated with simple OE.
---
Did this answer your question?
Additional feedback? (Optional)
Thank you for your feedback!