Answer
Physical examination for nasal polyps should begin with an anterior rhinoscopy procedure (see the images below). For small children, a handheld otoscope and otologic speculum are typically used. An otoscope placed in the nasal cavity provides views of the inferior turbinate, anterior septum, and areas in the nasal cavity extending to the anterior edge of the middle turbinate and midportion of the septum. The middle meatus (ie, the area under the middle turbinate laterally) can often be seen via anterior rhinoscopy if the child is cooperative and if no significant mucosal edema or secretions are present in the anterior nasal cavity.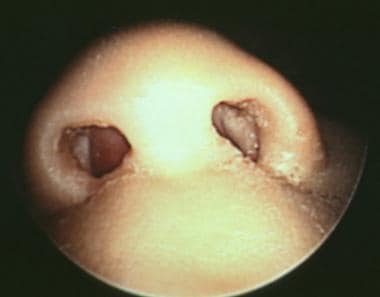 Interior view of the nose and nasal cavities. To the right of the patient's left nostril, the right nasal cavity has no obstruction. On the left of the picture, a reddish polyp is visible. The reddish mass is a nasal glioma.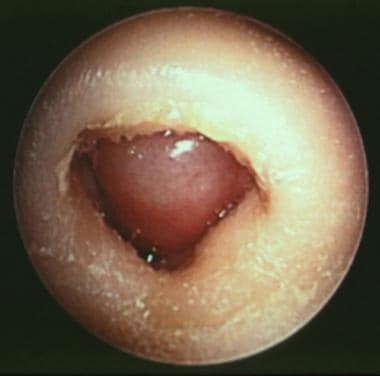 A close-up view of the right nasal cavity and polyp #5 in a 5-month-old infant. The obstructing reddish polyp is visible. This is an intranasal glioma that was arising from the attachment of the inferior turbinate anteriorly; it was transnasally removed.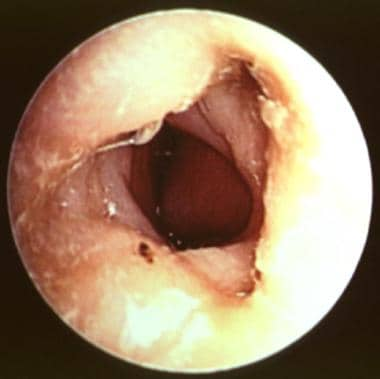 An anterior endoscopic view of the nasal cavity in a 5-month-old infant. The vestibule is seen in the periphery of the picture. In the center of the picture, the septum is visible to the left, and the inferior turbinate is to the right. These structures are reddish in hue. Some congestion in the nasal cavity is usually present. These are often structures that can be seen only by anterior rhinoscopy. If the area is decongested, the area of the middle meatus can occasionally be seen.
---
Did this answer your question?
Additional feedback? (Optional)
Thank you for your feedback!