Answer
Answer
Colorectal cancer is uncommon in adolescents and young adults; nonetheless, the incidence of pediatric colorectal tumors is rising. This trend is discordant with that seen in older adults, who are benefiting from screening programs. [1] The incidence of distal colon and rectal tumors is rising at the fastest rate, and rectal tumors are disproportionately represented in the very young age groups.
Most cases of colorectal cancer in adolescents and young adults are sporadic, but several genetic syndromes are associated with these tumors in young patients. The differing biology is suggested by the preponderance of high-grade and mucinous tumors, but the unique oncogenesis is not fully understood. See the images below.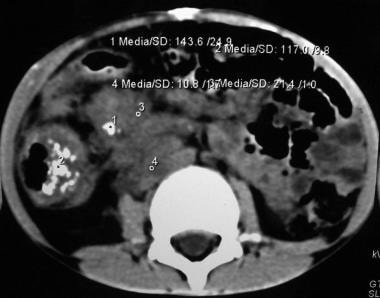 This picture depicts an abdominal CT scan of a 7 year-old boy with a mucinous adenocarcinoma of the ascending colon. Note the thickness and increased vascularity of the colonic wall, as well as irregularities on the serosal surface. This cut also shows severe tumor infiltration of the colonic mesentery surrounding the mesenteric and retroperitoneal vessels.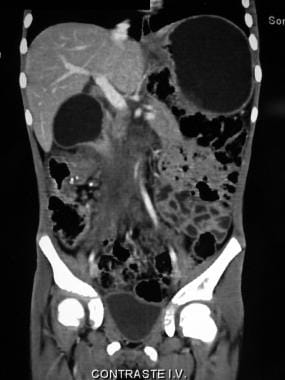 Coronal CT scan demonstrating the profuse tumoral infiltration of the ascending colonic mesentery surrounding mesenteric and portal vessels. Also note the thickness of the colonic hepatic flexure.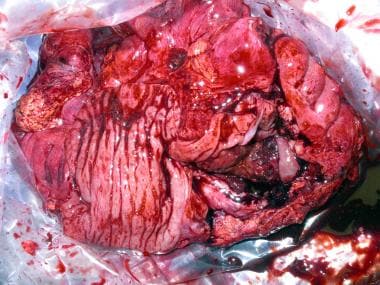 Surgical specimen after right hemicolectomy, including the terminal ileum up to the transverse colon. Mesenteric fat, vessels and lymph nodes were resected en block with the ascending colon. The large intestine has been opened longitudinally. Note the tumor on the right lower quadrant of the image, with severe thickness of the wall, areas of necrosis and hemorrhage, and some stippled calcifications.
Multidisciplinary management, including medical, radiation, and surgical oncology teams, is crucial for optimal outcomes.
Surgical treatment of metastatic colorectal cancer offers a chance for cure or prolonged survival.
Patients with peritoneal metastatic disease may benefit from surgical cytoreduction and hyper-thermic intraperitoneal chemotherapy (HIPEC). Best outcomes are documented for those in whom complete cytoreduction is surgically feasible.
Pulmonary metastases are rarely isolated; however, surgical resection is associated with prolonged survival in selected patients. [2]
---
Did this answer your question?
Additional feedback? (Optional)
Thank you for your feedback!