Answer
Since the late 1960s, treatment outcomes for pediatric patients with non-Hodgkin lymphoma have steadily improved. Even for patients with advanced disease, event-free survival rates are now 65-90%. (See Prognosis, Treatment, and Medication.)
The mainstay of conventional therapy is multiagent chemotherapy tailored to the histologic subtype and the clinical stage of disease. In certain individuals with non-Hodgkin lymphoma, surgical resection and radiation therapy are also key components of definitive treatment. Newer therapies that target immunologic and biologic aspects of the lymphoma are still under development but beginning to appear in the clinical arena. (See Treatment and Medication.)
Lymphomas are malignant neoplasms of lymphoid lineage. Broadly classified as either Hodgkin disease (Hodgkin's disease) or as non-Hodgkin lymphoma, lymphomas are clinically, pathologically, and biologically distinct (see the image below). (See Prognosis and Workup.) [1, 2]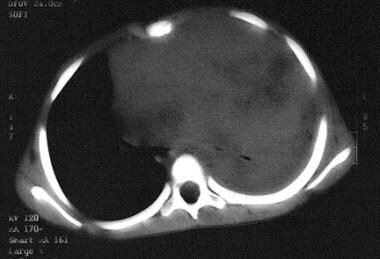 Massive mediastinal T-lymphoblastic lymphoma. Note compression of the left mainstem bronchus and the pulmonary atelectasis.
According to the National Cancer Institute (NCI) formulation, most childhood non-Hodgkin lymphomas can be classified as one of the following types:
Small noncleaved cell lymphomas (SNCCLs) - Burkitt lymphomas and non-Burkitt lymphomas (Burkittlike lymphomas)

Large cell lymphomas (LCLs)
B-cell LCLs and anaplastic (usually T-cell) LCLs (ie, Ki-1+ lymphomas) have come to be viewed as distinct entities. In this article, these categories are considered separately. Other, less common forms of childhood lymphoma (some of which are much more common in adults) are not discussed.
---
Did this answer your question?
Additional feedback? (Optional)
Thank you for your feedback!