Answer
Adenopathy, at times generalized, is less common in acute myeloid leukemia than in ALL.
Splenomegaly is sometimes massive, particularly in young children.
Pronounced organomegaly occasionally results in respiratory embarrassment in infants due to decreased diaphragmatic excursion.
CNS findings include lethargy, cranial nerve dysfunction (particularly esotropia and facial palsy), and papilledema.
Typhlitis can lead to acute pain in the lower quadrants that mimic signs of appendicitis.
Signs of perforation include hypotension, abdominal distension, and decreased bowel sounds. Clinical deterioration is rapid if the condition is not recognized.
Skin nodules are occasionally found in patients with acute myeloid leukemia. They are typically firm, raised, and often bluish-purple in color. (See the image below.)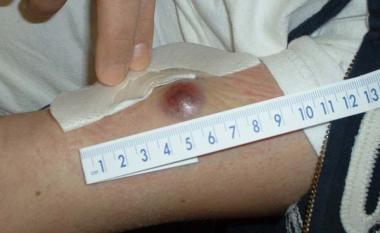 Leukemia cutis (a skin nodule) in a patient with leukemia.
---
Did this answer your question?
Additional feedback? (Optional)
Thank you for your feedback!