Answer
The most common extramedullary infiltration due to leukemic cells occurs in the reticuloendothelial system. This infiltration may manifest as adenopathy, hepatomegaly, or splenomegaly.
In rare cases, a mediastinal mass may cause symptoms of respiratory insufficiency or superior vena cava syndrome.
Abdominal masses may cause pain or obstruct the GI or urogenital tracts. Nodules of myeloblasts, called chloromas, can be found in the skin, CNS or any other organ.
Monoblastic leukemia is often associated with gingival hyperplasia (seen in the image below) and CNS infiltration.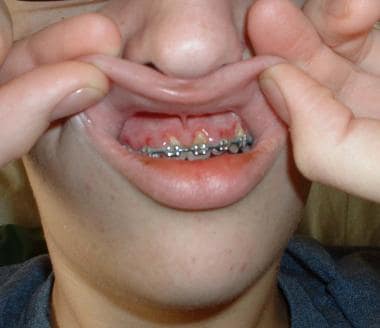 Gingival hyperplasia in a patient with monoblastic leukemia.
---
Did this answer your question?
Additional feedback? (Optional)
Thank you for your feedback!