Answer
In individuals who are obese, dysfunction in the gut-brain-hypothalamic axis via the ghrelin/leptin hormonal pathway has been suggested to have a role in abnormal appetite control and excess energy intake. See the image below.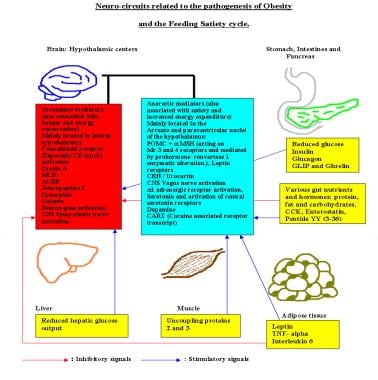 Central nervous system (CNS) neurocircuitry for satiety and feeding cycles. AGRP = Agouti-related protein; CB = cannabinoid; CCK = cholecystokinin; CRH = corticotropin-releasing hormone; GLIP = glucagonlike peptide; Mc-3 and 4 = melanocortin-3 and 4; MCH = melanin concentrating hormone; α-MSH = alpha–melanocyte-stimulating hormone; POMC = pro-opiomelanocortin; TNF = tumor necrosis factor.
Studies indicate that dysfunction in this hormonal axis may be the causative factor in as many as 10% of obese subjects, with emphasis particularly on those individuals who appear to manifest familial morbid obesity. In these families, several reports have shown a dramatic, weight loss response to hormone replacement therapy in patients with leptin deficiency. Reductions in energy expenditure characterize other hormonal deficiency states, including hypothyroidism and growth hormone deficiency. Increases in energy intake are observed in genetic syndromes, such as Prader-Willi syndrome, Cushing syndrome, and drug-induced obesity.
---
Did this answer your question?
Additional feedback? (Optional)
Thank you for your feedback!