Answer
The physical findings vary depending on the severity of kidney failure and can range from an absence of any physical findings to the presence of one or more of the following:
Cardiac abnormalities (eg, left ventricular hypertrophy [LVH], pericarditis)

Central nervous system (CNS) abnormalities (eg, ranging from loss of concentration and lethargy to seizures, coma)
Approximately 50-100% of patients with end-stage renal disease (ESRD) also have at least one dermatologic condition. In addition, uremia and conditions associated with renal replacement therapy often give rise to numerous and, often, relatively unique cutaneous disorders. These dermatologic manifestations of renal disease may be divided into 3 general associated with ESRD, uremia, or renal transplantation. Discussion of the common cutaneous disorders in renal disease is beyond the scope of this article; see Dermatologic Manifestations of Renal Disease.
The image below illustrates several uremia-related cutaneous disorders.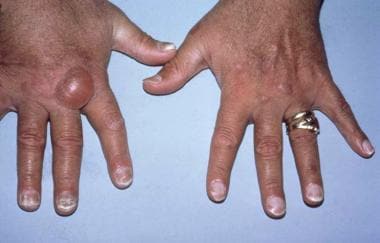 Hands of a transfusion-dependent patient on long-term hemodialysis. Several uremia-related cutaneous disorders are visible. The pigmentary alteration results from retained urochromes and hemosiderin deposition. The large bullae are consistent with either porphyria cutanea tarda or the bullous disease of dialysis. All nails show the distal brown-red and proximal white coloring of half-and-half nails.
A population-based, case-control study with 1994 patients with childhood CKD and 20,032 controls sought to determine the association of childhood CKD with prenatal risk factors, including birth weight, maternal diabetes mellitus, and maternal overweight/obesity. The prevalence of CKD was 126.7 cases per 100,000 births. The study concludes that low birth weight, maternal gestational diabetes mellitus, and maternal overweight/obesity associated significantly with obstructive uropathy. The data suggested that prenatal factors may impact the risk of CKD. The authors add that future studies are needed to determine if modification of these factors could reduce the risk of childhood CKD. [14]
---
Did this answer your question?
Additional feedback? (Optional)
Thank you for your feedback!