Answer
CKD is asymptomatic in its earliest stages (stage I and stage II), although urinalysis findings or blood pressure may be abnormal. As CKD progresses to more advanced stages, signs and symptoms greatly increase. Polydipsia and nocturia (secondary to a reduced capacity to concentrate the urine) may be some of the earliest symptoms that suggest CKD in an otherwise healthy-looking child who has tubulointerstitial kidney disease.
The signs and symptoms in advanced CKD may include the following:
Anorexia, nausea, vomiting

Bone disease (termed osteodystrophy)

Cardiovascular disease

Volume overload
The image below illustrates several uremia-related cutaneous disorders.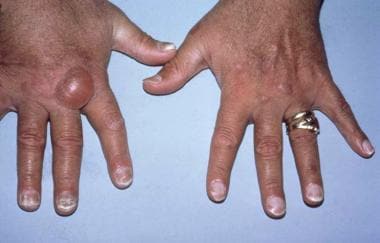 Hands of a transfusion-dependent patient on long-term hemodialysis. Several uremia-related cutaneous disorders are visible. The pigmentary alteration results from retained urochromes and hemosiderin deposition. The large bullae are consistent with either porphyria cutanea tarda or the bullous disease of dialysis. All nails show the distal brown-red and proximal white coloring of half-and-half nails.
See Presentation for more detail.
---
Did this answer your question?
Additional feedback? (Optional)
Thank you for your feedback!