Answer
If a serious phalangeal injury is suspected, radiographs should be performed before more forceful testing. Hand fractures in the athlete are treated with adequate alignment, immobilization, and then motion. In general, intra-articular fractures must be reduced anatomically. Reduction requires early recognition of the exact location of the fracture and having a complete understanding of the muscle pull on the fragments, then minimizing the deforming force.
See the image below.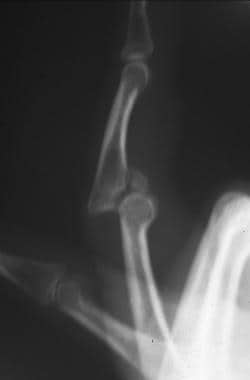 Acute dorsal proximal interphalangeal joint fracture-dislocation.
For patient education resources, see the Breaks, Fractures, and Dislocations Center, as well as Broken Finger, Broken Hand, and Wrist Injury.
---
Did this answer your question?
Additional feedback? (Optional)
Thank you for your feedback!