Answer
Genetic testing is especially useful in syndromic nephrotic syndrome (NS), congenital and infantile NS, and steroid-resistant nephrotic syndrome (SRNS). The detection of a monogenic cause of NS can deter the unnecessary use of immunosuppressive medications, because genetic NS is generally unresponsive to such treatment. Conversely, the absence of a known genetic cause might justify further treatment with non-steroidal immunosuppressive agents.
Additionally, knowledge of the presence or absence of a genetic cause can allow the practitioner to offer guidance to famillies regarding clinical course and prognosis, as well as the risk of recurrence after transplantation. Finally, identification of a known genetic cause for NS may allow further genetic counseling regarding family planning and antenatal screening. [57] Because approximately 30% of children with SRNS may have a single-gene cause of their disease, it is recommended that all children with SRNS (as well as all patients with congenital, infantile, and syndromic NS) undergo genetic testing when possible. [3]
Traditional genetic testing by Sanger sequencing was slow and costly. However, high-throughput, next-generation sequencing (NGS) has made genetic testing more accurate, cost-efficient, timely, and practical. NGS allows screening of large gene panels for monogenic causes of NS. [58] The figure below outlines a practical approach to genetic tesing in childhood NS.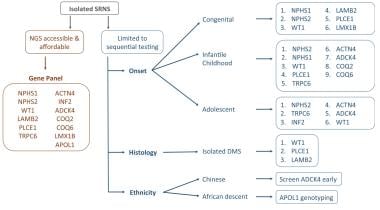 Mutational screening in children with isolated steroid-resistant nephrotic syndrome (SRNS). If next-generation sequencing (NGS) technology is accessible, screening should utilize a gene panel including, but not limited to, the most common monogenic causes of SRNS. If NGS technology is not available, genes should be screened in numerical order of frequency per age group. Ethnicity and histologic findings should trigger preferential screening of certain genes. DMS = diffuse mesangial sclerosis. Courtesy of Pediatric Nephrology (Open Access journal) and reproduced from Preston R, et al. Genetic testing in steroid-resistant nephrotic syndrome: why, who, when and how? Pediatr Nephrol. 2019 Feb;34(2):195-210.
When gene panel testing is not available, patients with infantile or congenital NS should be tested for mutations in NPHS1 and WT1. If the results are normal, testing for mutations in NPHS2 and PLCE1 should be considered. Although LAMB2 and LMX1B are generally associated with syndromic NS, isolated cases of congenital NS have been reported and consideration should be given for testing for mutations in these genes as well. Genetic testing for WT1 mutations also should be considered in patients who present with NS and extrarenal features of Denys-Drash syndrome (NS, pseudohermaphroditism or genitourinary tract anomalies, and Wilms tumor) or Frasier syndrome (NS, pseudohermaphroditism or genitourinary tract anomalies, and gonadoblastoma).
Infants with NS and neurologic or visual disturbances should be considered candidates for LAMB2 testing (Pierson syndrome). [21] The presence of other extrarenal findings might indicate further genetic testing, such as LMX1B (nail-patella syndrome) and SMARCAL1 (Schimke immuno-osseous dysplasia).
In patients who are initially or subsequently unresponsive to steroid treatment, in addition to kidney biopsy, consideration should be given to testing for mutations in podocin (NPHS2), ACTN4, and TRPC6.
---
Did this answer your question?
Additional feedback? (Optional)
Thank you for your feedback!