Answer
Renal biopsy is not usually necessary for diagnosis and may be contraindicated due to thrombocytopenia. Histologic analysis of kidney specimens reveals thrombotic microangiopathy, with swollen glomerular endothelial cells and red cells and platelets in the capillaries. Accumulation of fibrinlike material in the subendothelial space creates a thickened appearance to the capillary walls. Thrombi may be observed in the glomerular capillaries and arterioles. These findings can progress to acute cortical necrosis involving both glomeruli and convoluted tubules.
Histological slides are presented below.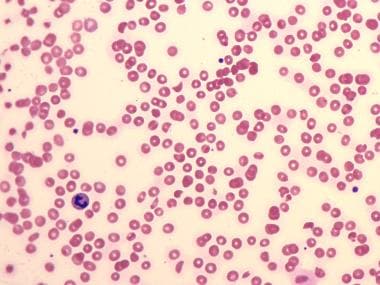 Peripheral blood smear in hemolytic-uremic syndrome (HUS) showing many schistocytes and RBC fragments due to hemolysis, and relatively few platelets reflective of thrombocytopenia.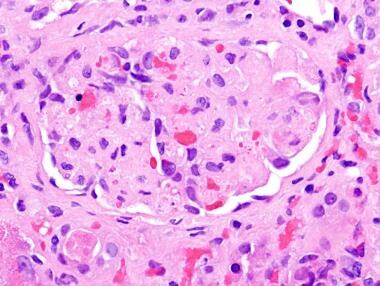 Micrograph of a glomerulus in hemolytic-uremic syndrome, showing thrombi and red blood cell fragments in the capillary space. Courtesy of Xin J (Joseph) Zhou, MD, Renal Path Diagnostics, Pathologists BioMedical Labs.
Tissue section of the gut shows microangiopathy, with endothelial cell injury, and thrombosis, with submucosal edema and hemorrhage.
Microthrombi may be observed in other organs, including the lungs, liver, heart, adrenal glands, brain, thyroid, pancreas, thymus, lymph nodes, and ovaries.
---
Did this answer your question?
Additional feedback? (Optional)
Thank you for your feedback!