Answer
Classic findings in hemolytic-uremic syndrome (HUS) include anemia and thrombocytopenia, with fragmented RBCs (eg, schistocytes, helmet cells, burr cells), as shown in the image below.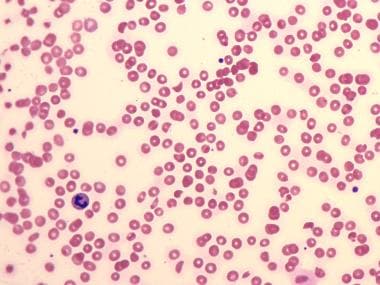 Peripheral blood smear in hemolytic-uremic syndrome (HUS) showing many schistocytes and RBC fragments due to hemolysis, and relatively few platelets reflective of thrombocytopenia.
Testing for ADAMTS13 activity may help distinguish between atypical hemolytic-uremic syndrome (aHUS) and thrombotic thrombocytopenic purpura (TTP). ADAMTS13 activity less than 10% is consistent with a diagnosis of TTP. Patients with low levels of ADAMTS13 activity should also be tested for the presence of antibody to ADAMTS13. If plasma exchange is planned, specimens should be obtained before starting plasma exchange, as the donor plasma may confound the results. Rapid diagnosis is very helpful. Several laboratories offer 24-hour turnaround service.
WBC differential may reveal a left shift (ie, immature WBCs, including bands, myelocytes, metamyelocytes). Patients with Shiga toxin–producing E coli hemolytic-uremic syndrome (STEC-HUS) may have extremely high WBC counts, in the range of 50,000-60,000/µL.
Coombs test results are negative, except with S pneumoniae –associated hemolytic-uremic syndrome.
Reticulocyte count is elevated.
levels of serum haptoglobin, which binds hemoglobin, are decreased.
Prothrombin time (PT) and activated partial thromboplastin time (aPTT) are normal.
Fibrin degradation products are increased.
Fibrinogen levels are increased or within reference range.
---
Did this answer your question?
Additional feedback? (Optional)
Thank you for your feedback!