Answer
Generally, hematuria is defined as the presence of 5 or more red blood cells (RBCs) per high-power field in 3 of 3 consecutive centrifuged specimens obtained at least 1 week apart. Hematuria can be either gross (ie, overtly bloody, smoky, or tea-colored urine) or microscopic. It may also be either symptomatic or asymptomatic, either transient or persistent, and either isolated or associated with proteinuria and other urinary abnormalities. See the image below.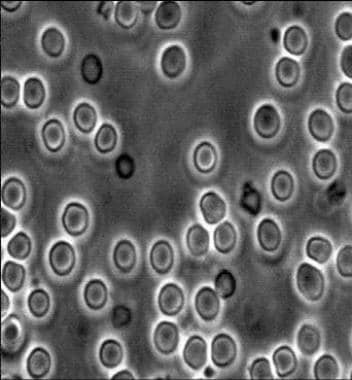 Microscopy of urinary sediment. Typical appearance in non-glomerular hematuria: RBCs are uniform in size and shape but show two populations of cells because a small number have lost their hemoglobin pigment.
---
Did this answer your question?
Additional feedback? (Optional)
Thank you for your feedback!