Answer
The incidence of culture-proven early-onset sepsis in the United States is approximately 0.3-2 per 1000 live births. Of the 7%-13% of neonates who are evaluated for neonatal sepsis, only 3%-8% of those screened will have culture-proven sepsis. This disparity arises from the cautious approach to management of neonatal sepsis. [21]
Because early signs of sepsis in the newborn are nonspecific, diagnostic studies are often ordered and treatment initiated in neonates before the presence of sepsis has been proven. Moreover, because the American Academy of Pediatrics (AAP), [22, 23] the American College of Obstetricians and Gynecologists (ACOG), [24] and the Centers for Disease Control and Prevention (CDC) [25] all have recommended sepsis screening or treatment for various risk factors related to Group B Streptococcus (GBS) infections, many asymptomatic neonates now undergo evaluation and are exposed to antibiotics.
Mortality from untreated sepsis can be as high as 50%, leading many clinicians to err on the side of treating asymptomatic infants based on historical and maternal risk factors alone. This approach has been questioned in the past several years as more evidence emerges on the deleterious impact of unnecessary antibiotic exposure, including interference with the establishment of breast feeding, alternations in gut microbiome, increases in the incidence of childhood obesity, and development of antimicrobial resistance, amongst others. [26]
The implementation of a prenatal screening and treatment protocol for GBS has resulted in a dramatic decrease in the incidence of GBS sepsis. This has changed the epidemiology of early-onset sepsis (see the image below).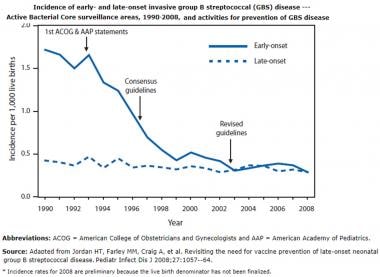 Neonatal sepsis. Incidence of early-onset and late-onset invasive group B Streptococcus (GBS) disease. Graph from Verani JR, McGee L, Schrag SJ, for the Division of Bacterial Diseases, National Center for Immunization and Respiratory Diseases, Centers for Disease Control and Prevention (CDC). Prevention of perinatal group B streptococcal disease--revised guidelines from CDC, 2010. MMWR Recomm Rep. 2010 Nov 19. 59 (RR-10):1-36. Online at: https://www.cdc.gov/mmwr/preview/mmwrhtml/rr5910a1.htm.
---
Did this answer your question?
Additional feedback? (Optional)
Thank you for your feedback!