Answer
The abdomen can be entered via a right transverse incision just below the umbilicus by using electrocautery to ensure hemostasis. This incision provides adequate exposure away from a frequently large liver and decreases the risk of retractor injury to the liver. Care must be taken at the time of entry into the peritoneal cavity to avoid injury to dilated loops of intestine. If any free intraperitoneal fluid is identified, samples may be taken for aerobic, anaerobic, and fungal culture. Bloody peritoneal fluid is seen in necrosis and brown turbid fluid is found in perforation.
The abdominal cavity is then systematically inspected for evidence of necrosis and perforation. Particular attention is paid to the right lower quadrant because the terminal ileum and proximal ascending colon are most commonly involved. The guiding principle of surgery for NEC is to resect only perforated and unquestionably necrotic intestine and to make every effort to preserve the ileocecal valve. (See the images below.)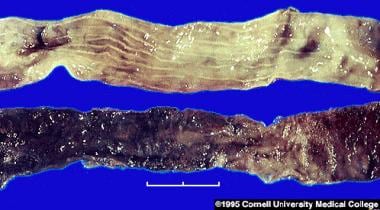 Normal (top) versus necrotic section of bowel. Photo courtesy of the Department of Pathology, Cornell University Medical College.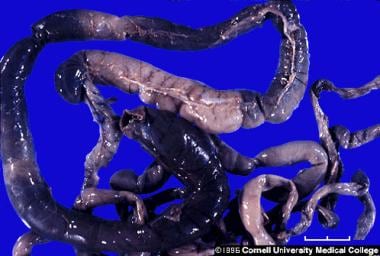 Resected portion of necrotic bowel. Photo courtesy of the Department of Pathology, Cornell University Medical College.
White or gray bowel indicates ischemic necrosis. Hemorrhagic or edematous areas of bowel may represent areas of mucosal ischemia and injury but do not necessarily indicate nonviable bowel. Saccular protrusions of bowel wall have undergone mucosal, submucosal, and muscularis necrosis and are covered only by a layer of serosa. These are areas of impending intestinal perforation.
Palpation may also be helpful, because resilient pliable bowel is typically viable, and lax and boggy bowel that indents on palpation is often necrotic. If the viability of remaining bowel is significantly questionable, a second-look operation can be performed in 24-48 hours to assess the viability of the remaining intestine.
If a single area of bowel is resected, a proximal ostomy and distal mucus fistula are created. The viability of the bowel at the cut margins can be ascertained by whether the cut edges bleed. The enterostomy and mucus fistula are brought out at opposite ends of the incision, with the serosa sutured to the abdominal wall fascia with interrupted sutures. About 2 cm of bowel is left to protrude above the abdominal wall, and the end of the ostomy is not matured. If ostomy viability is in question postoperatively, the ends of the intestine may be excised and observed for adequate bleeding.
Primary anastomosis is not generally advocated, because of the risk of ischemia at the anastomosis, leading to increased incidence of leakage, stricture, fistula, or breakdown. However, intestinal resection with primary anastomosis may be safely performed in select cases. Patients must demonstrate a clearly demarcated small segment of injured bowel with normal-appearing residual intestine and be in good general condition with no evidence of sepsis, coagulopathy, or physiologic compromise.
If multiple segments of intestine are involved because of necrosis or perforation, a decision must be made regarding the course of action. Historically, the individual segments of affected intestine are resected, and multiple ostomies are created. However, a number of other surgical options have been proposed. A single proximal stoma may be created and the distal bowel segments anastomosed in continuity, thus avoiding multiple stomas.
Moore proposes a technique of patch, drain, and wait, which involves transverse, single-layer repair of bowel perforations (patch); placement of 2 Penrose drains in the lower quadrants (drain), and initiation of long-term parenteral nutrition (wait); however, this technique is not widely advocated. The thin, distended bowel wall holds suture poorly, and the abdominal cavity does not drain freely with open gravity drainage. In addition, this technique does not address the source of intra-abdominal sepsis, because necrotic bowel is not resected.
In a small series, Vaughn describes a different technique of clip and drop-back. [48] The unquestionably necrotic segments of intestine are resected and the transected ends are stapled closed. A second-look operation is performed in 48-72 hours when the clips are removed, and reanastomosis is performed without any ostomies.
NEC totalis occurs when less than 25% of the intestinal length is found to be viable at the time of operation; this finding results in a number of grim treatment options. Simple closure of the abdomen is supported by findings that show a 42-100% mortality rate in patients with pan involvement. Massive resection with excision of the ileocecal valve requires at least 20 cm of residual bowel for any hope of adequate enteral nutrition. Patients with a decreased bowel length require permanent parenteral nutrition.
Martin and Neblett describe a technique of enterostomy diversion proximal to the involved bowel without bowel resection. [49] This technique may facilitate bowel healing by allowing bowel decompression, reducing intestinal bacterial load, and decreasing metabolic demand.
After intestinal resection, the length of remaining viable bowel should be sequentially measured along the antimesenteric border of the intestine and recorded.
---
Did this answer your question?
Additional feedback? (Optional)
Thank you for your feedback!