Answer
The principal indication for operative intervention in necrotizing enterocolitis (NEC) is perforated or necrotic intestine. Infants with necrotic intestine are identified based on various clinical, laboratory, and radiologic findings. The most compelling predictor of intestinal necrosis indicating a need for operative intervention is pneumoperitoneum (see the image below). Other relative indications for operative intervention are erythema in the abdominal wall, gas in the portal vein, and positive paracentesis.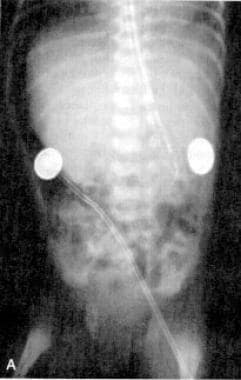 Pneumoperitoneum. Photo courtesy of the Department of Pathology, Cornell University Medical College.
Surgery is generally indicated in the medically treated patient whose clinical condition deteriorates. The signs of deterioration include worsening abdominal examination findings, signs of peritonitis, worsening and intractable acidosis, persistent thrombocytopenia, rising leukocytosis or worsening leukopenia, and hemodynamic instability.
Note that evaluation by a pediatric surgeon early in the course of NEC is important to avoid any delay in operative intervention. Many infants may have isolated perforations or necrotic tissue that wall off the abdominal cavity and do not show free intraperitoneal air. Knowing whether these infants may benefit from early operative intervention is difficult.
---
Did this answer your question?
Additional feedback? (Optional)
Thank you for your feedback!