Answer
Necrotizing enterocolitis (NEC), which typically occurs in the second to third week of life in premature, formula-fed infants, is characterized by variable damage to the intestinal tract, ranging from mucosal injury to full-thickness necrosis and perforation (see the image below). NEC affects close to 10% of infants who weigh less than 1500 g, with mortality rates of 50% or more depending on severity, but may also occur in term and near-term babies.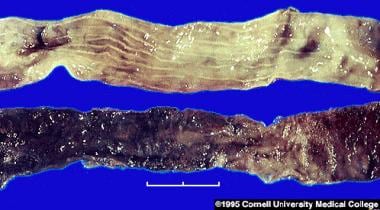 Normal (top) versus necrotic section of bowel. Photo courtesy of the Department of Pathology, Cornell University Medical College.
---
Did this answer your question?
Additional feedback? (Optional)
Thank you for your feedback!