Answer
Pulmonary interstitial emphysema (PIE) is a collection of gases outside of the normal air passages and inside the connective tissue of the peribronchovascular sheaths, interlobular septa, and visceral pleura. This condition develops when the most compliant portion of the terminal airway ruptures, allowing gas to escape into the interstitial space. [2] Pulmonary interstitial emphysema essentially, if not exclusively, occurs in preterm infants with immature lungs, usually after mechanical ventilation therapy, [3, 4, 5] but occasionally in the absence of mechanical ventilation. [6, 7, 8, 9] PIE is broadly classified under pulmonary air leak syndromes.
PIE is a radiographic and pathologic diagnosis (see image below and Workup). The introduction of surfactant and newer ventilator modalities has decreased the incidence of PIE. Its treatment of PIE is mainly preventive by using the minimum pressures or volume compatible with an acceptable gas exchange as well as early administration of selective surfactant, if indicated, to infants with respiratory distress syndrome (RDS). Therefore, minimizing the use of invasive ventilator support and favoring spontaneous ventilation under nasal continuous positive airway pressure (CPAP) is probably the best preventive measure. The principal therapies are lateral decubitus positioning, selective intubation, and occlusion of the contralateral bronchus, in conjunction with high-frequency or jet ventilation. [3, 4, 10] Intensive respiratory management is required to reduce morbidity and mortality in these patients.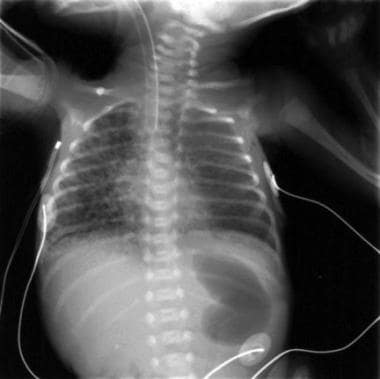 This radiograph, obtained from a premature infant at 26 weeks' gestation, shows characteristic radiographic changes of pulmonary interstitial emphysema (PIE) of the right lung.
See the Medscape Drugs & Diseases articles Imaging in Pulmonary Interstitial Emphysema, Respiratory Distress Syndrome, Respiratory Distress Syndrome Imaging, Bronchopulmonary Dysplasia, and Imaging in Bronchopulmonary Dysplasia for more information on these topics.
---
Did this answer your question?
Additional feedback? (Optional)
Thank you for your feedback!