Answer
Surgical repair of bladder exstrophy aims to preserve kidney function. Surgical reconstruction involves the following:
The bladder is dissected away from its attachments to the lower abdominal wall and folded upon itself.

Closure of the lower abdominal wall defect necessitates creating a space for the bladder and other pelvic organs.

The shape of the pelvis must be altered, from flat and shallow to concave.

The intersymphyseal band between the splayed pubic symphysis is divided, and the anterolateral pelvic bones are rotated medially. If left untreated, affected children have a waddling gait because of the "down-and-out" rotation of the anterior pelvic ring and diastasis of the pubic symphysis.

Urinary continence and voluntary micturition is obtained by early closure of the bladder and reconstruction of the bladder neck and urethra.

Vesicoureteral reflux is usually present and requires antibiotics and, perhaps, ureteral reimplantation.

Finally, epispadias is corrected, to achieve adequate genitourinary function.
See the images below.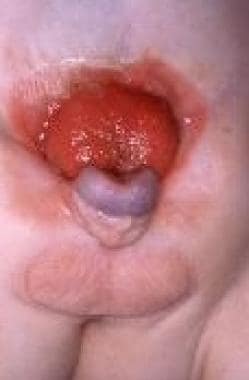 Pediatric omphalocele and gastroschisis (abdominal wall defects). Bladder exstrophy and epispadias is shown in an infant. Note the appearance of the bladder mucosa, indicating chronic inflammation.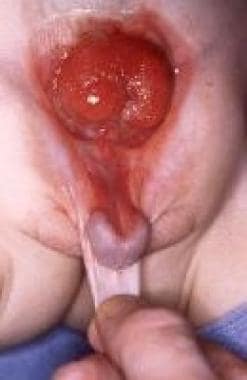 Pediatric omphalocele and gastroschisis (abdominal wall defects). This is another view demonstrating the epispadias shown in the previous image.
---
Did this answer your question?
Additional feedback? (Optional)
Thank you for your feedback!