Answer
If the appearance of the intestines is normal in an infant with gastroschisis, reduction and closure are usually feasible. A relatively recently proposed technique is "sutureless closure," in which, following reduction of the eviscerated bowel, the umbilical cord is used to fill the opening in the abdominal wall and then is secured in place with an adhesive dressing.
If the intestines are inflamed and abdominal wall closure is not possible, the intestines are placed within a silo and reduction is accomplished over the subsequent 7-10 days.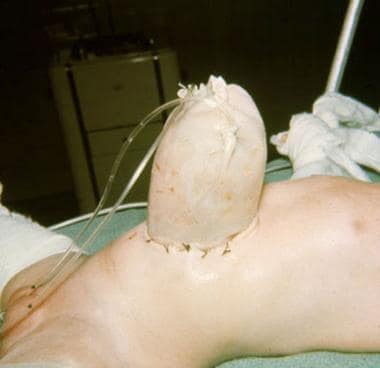 Pediatric omphalocele and gastroschisis (abdominal wall defects). This image demonstrates silo closure in an infant with gastroschisis.
Parenteral nutrition allows for continued growth and healing; intestinal recovery is signaled by the passage of "starvation stools." If intestinal function is delayed beyond 4-6 weeks, a contrast bowel study should be obtained to assess transit of contrast medium through the intestines. If this study demonstrates a mechanical obstruction, laparotomy is indicated.
---
Did this answer your question?
Additional feedback? (Optional)
Thank you for your feedback!