Answer
The mortality of omphaloceles relative to gastroschisis is 8:1. Irreversible pulmonary hypertension and right heart failure is the usual terminal event.
In a 2018 literature review of 23 articles comprising 396 giant omphaloceles, the outcome was lethal in in nearly 23% (n = 90) of neonates, with sepsis the primary cause in more than half of these patients (56.6%; n = 51). [21] Two predictors of mortality were pulmonary hypoplasia and respiratory failure; prematurity and ruptured sacs were also implicated. [21]
Factors adversely influencing the management of infants with gastroschisis are as follows:
Prematurity and low birth weight

Hypothermia (exposure of the intestine to the ambient environment)

Dehydration (gastrointestinal losses, in addition to the above factors)

Hypoglycemia (stress with little metabolic reserve)

In utero growth restriction (protein loss from the extruded intestines)

Fetal distress and birth asphyxia

Injury to the intestines during delivery (tearing or cutting the bowel or mesentery) or transport (allowing the eviscerated intestines to fall alongside the infant, stretching or torquing the mesenteric vessels) [22]
Improvements in respiratory care, pharmacology (antibiotics and total parenteral nutrition), anesthesia, transport, and surgery have increased the survival rates for these infants from 60% during the 1960s to more than 90% in more recent years. [15, 16, 20]
See the images below.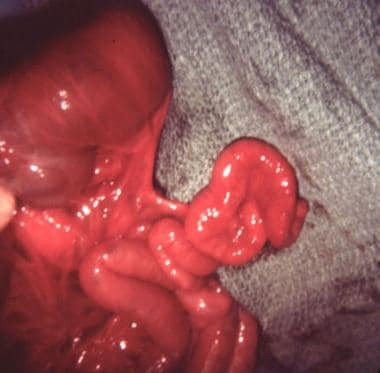 Pediatric omphalocele and gastroschisis (abdominal wall defects). Gastroschisis and associated intestinal atresia is shown in an infant.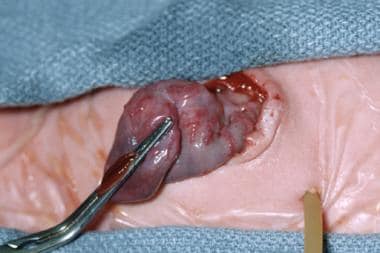 Pediatric omphalocele and gastroschisis (abdominal wall defects). This intraoperative image reveals gastroschisis and colon atresia in an infant. The bulbous proximal end of the atretic colon is excised, and a colostomy is created at the abdominal wall defect. An anastomosis of the proximal, dilated colon to the distal microcolon (in view of its small caliber) would not function properly. The colostomy can be closed 4-6 weeks later.
Long-term morbidity from gastroschisis is related to intestinal dysmotility (pseudointestinal obstruction), malabsorption (mucosal injury), short gut, and gastroesophageal reflux disease. Difficulty obtaining wound closure contributes to morbidity by prolonging intestinal dysfunction (ileus) and creating ventral hernias, which may require surgical repair. [23, 24, 6, 25]
The following scenarios may cause short-gut syndrome, in which the intestinal length is inadequate:
An antenatal mesenteric vascular accident may cause intestinal atresia.

Constriction of the extruded intestine's mesentery by a small abdominal wall defect may cause in utero gut infarction ("closing gastroschisis").

Tethering the eviscerated bowel's mesentery impairs blood flow and may cause vascular injury. [22]

Excessive tension from closure of the abdominal wall defect results in the "abdominal compartment syndrome," in which the intra-abdominal pressure exceeds the splanchnic perfusion pressure and nutritive blood flow ceases.
Closed-loop obstructions, in which both efferent and afferent limbs of the intestine are blocked, occur in volvulus (twisting of the entire midgut and its mesentery), or a single loop of intestine may flip around a point of fixation, such as an adhesion to the abdominal wall. This causes unrelieved distention and ischemic injury of the intestines (ie, "strangulation obstruction"). [26]
The injury produced by antenatal exposure of the intestine to amniotic fluid (mucosal and muscular) leads to diminished absorption and impaired peristalsis, which compounds the crippling effect of the diminished length of short-gut syndrome.
The care of infants with short-gut syndrome has improved with innovations in parenteral and enteral nutrition, venous access devices, prevention and early treatment of catheter sepsis, innovative surgical procedures to optimize gut length, and aggressive treatment of bacterial overgrowth in stagnant loops of intestine. Infants with short-gut syndrome from gastroschisis account for a substantial number of children who undergo intestinal transplantation. [27, 28]
See the images below.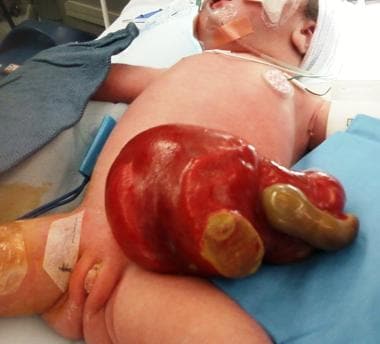 Pediatric omphalocele and gastroschisis (abdominal wall defects). In this infant, gastroschisis has been complicated by jejunal atresia and loss of the entire distal small bowel (the grey tissue).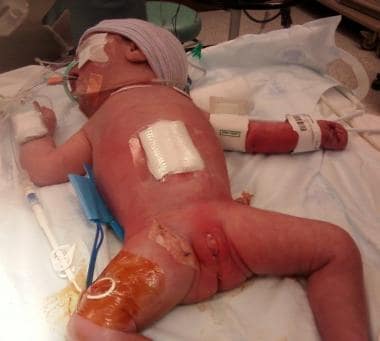 Pediatric omphalocele and gastroschisis (abdominal wall defects). Following lysis of adhesions and tubularization of the viable, mesenteric portion of the proximal jejunum, the eviscerated viscera are reduced and the gastroschisis abdominal wall defect is closed.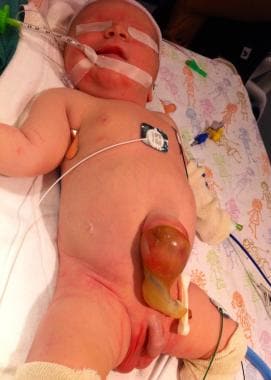 Pediatric omphalocele and gastroschisis (abdominal wall defects). This infant had a small omphalocele sac whose contents were liver and gall bladder.
Pediatric omphalocele and gastroschisis (abdominal wall defects). The omphalocele sac contains liver and gall bladder.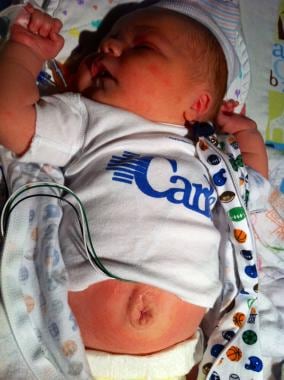 Pediatric omphalocele and gastroschisis (abdominal wall defects). A completed repair is shown, simulating an umbilicus.
Infants with giant omphaloceles usually have small, bell-shaped thoraces and minimal pulmonary reserve. Repair of the omphalocele may precipitate respiratory failure by limiting diaphragmatic excursion.
Occasionally, infants are encountered with anomalies whose adverse effects are additive, such as a giant omphalocele plus a diaphragmatic hernia. Pulmonary hypoplasia occurs in both conditions; when they occur together, their effects are so severe as to preclude survival, despite extracorporeal membrane oxygenation (ECMO) support.
Even with successful repair of a giant omphalocele, the liver remains located in the midepigastrium, where it lacks the normal protection afforded by the lower rib cage and where it is more vulnerable to injury. See the following image.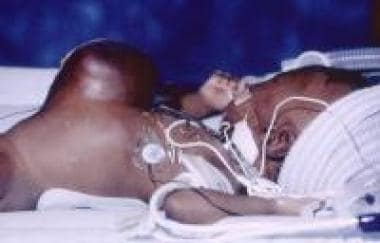 Pediatric omphalocele and gastroschisis (abdominal wall defects). This image shows a giant omphalocele in an infant, in which the liver assumes an ectopic position in the epigastrium.
A study by Corey et al indicated that compared with infants with gastroschisis, those with omphalocele have a higher incidence of other anomalies, are more likely to have pulmonary hypertension, and have a higher mortality rate. [29] In the study, which involved 4,687 infants with gastroschisis and 1,448 with omphalocele, the investigators found that 35% of the patients with omphalocele had at least one other anomaly, as compared with 8% of those with gastroschisis. The odds ratios for pulmonary hypertension and mortality in infants with omphalocele compared with those with gastroschisis were 7.78 and 6.81, respectively. [29]
---
Did this answer your question?
Additional feedback? (Optional)
Thank you for your feedback!