Answer
Gastroschisis
In gastroschisis, there appears to be a weakness in the body wall (caused by defective ingrowth of mesoderm, or impaired midline fusion, or inappropriate apoptosis) that allows the intestines to herniate through this defect into the amniotic cavity. (See the following image.)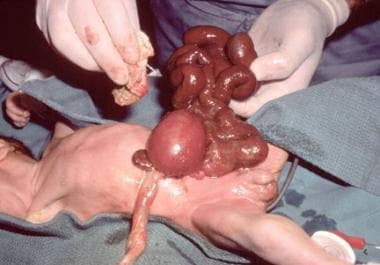 Pediatric omphalocele and gastroschisis (abdominal wall defects). This intraoperative photograph reveals and infant with gastroschisis.
Gastroschisis occurs in young mothers with low gravida; it is associated with prematurity and small-for-gestational-age (SGA) infants, and denotes in utero growth retardation.
The clustering of cases (number and severity) suggests a multifactorial etiology, including environmental factors acting upon susceptible hosts.
---
Did this answer your question?
Additional feedback? (Optional)
Thank you for your feedback!