Answer
Omphaloceles
In infants with omphaloceles, the intestines do not return to the abdominal cavity; rather, they remain within the extra-embryonic coelom (amniotic cavity) bounded by the umbilical ring. [9] (See the image below.)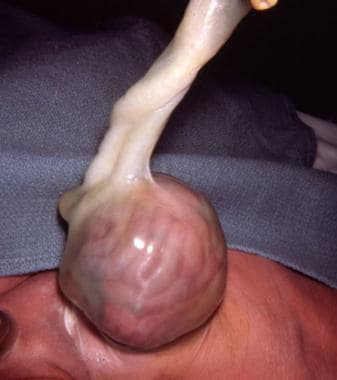 Pediatric omphalocele and gastroschisis (abdominal wall defects). An intact omphalocele in an infant is shown.
There is evidence to suggest that omphaloceles have a genetic etiology, as follows:
Omphaloceles are associated with increased maternal age.

Omphaloceles occur in twins, consecutive children, and different generations of the same family.

Omphaloceles are associated with trisomy 13, 18, and 21 (in 25%-50 % of cases) and with Beckwith-Wiedemann syndrome
---
Did this answer your question?
Additional feedback? (Optional)
Thank you for your feedback!