Answer
Several groups are investigating other neuroprotective strategies whether alone or in combination with hypothermia therapy (summarized in the image below). [100]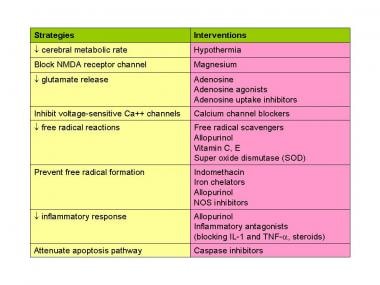 Summary of potential neuroprotective strategies.
Promising avenues include the following:
Prophylactic barbiturates: In a small randomized trial, high-dose phenobarbital (40 mg/kg) was given over 1 hour to infants with severe hypoxic-ischemic encephalopathy. Treated infants had fewer seizures (9 of 15) than untreated control infants (14 of 16). Treated infants also had fewer neurologic deficits at age 3 years (4 of 15) than untreated infants (13 of 16). [101] In another small study, thiopental given within 2 hours and over 24 hours, did not result in improved rate of seizures or neurodevelopmental outcomes at 12 months. [102] Hypotension was more common in infants who received thiopental. Thus, the role of prophylactic barbiturate remains unclear. Further studies are needed. [103]

Erythropoietin: In one study, low-dose erythropoietin (300-500 U/kg) administered for 2 weeks starting in the first 48 hours of life decreased the incidence of death or moderate and severe disability at age 18 months (43.8% vs 24.6%; P < 0.05) in infants with moderate-to-severe hypoxic-ischemic encephalopathy. Subgroup analysis indicated that only infants with moderate disability benefited from this therapy. [104] Currently being evaluated in NCT 01913340.

Allopurinol: Slight improvements in survival and cerebral blood flow (CBF) were noted in a small group of infants tested with this free-radical scavenger in one clinical trial. [105]

Excitatory amino acid (EAA) antagonists: MK-801, an EAA antagonist, has shown promising results in experimental animals and in a limited number of adult trials. However, this drug has serious cardiovascular adverse effects.

Stem cell therapy: The use of mesenchymal stem cells and autologous stem cells to treat infants with hypoxic-ischemic encephalopathy (HIE) is under extensive study. Early evidence suggest this may be an effective therapeutic avenue. More work is required to determine the type of cells, dose, timing, and duration. In addition, more studies are also required to understand the underlying protective mechanisms. [106, 107, 108]

Other adjuvant therapies under investigation include Xexon (NCT0271394 and NCT01545271), topiramate (NCT01765218), and MgSO4 (NCT01646619).
---
Did this answer your question?
Additional feedback? (Optional)
Thank you for your feedback!