Answer
Periventricular leukomalacia (PVL), also called "white matter necrosis," is macroscopically characterized by the presence of discrete cavities or foci of parenchymal softening in the periventricular areas. In some cases, PVL can not be grossly appreciated. PVL is believed to be the result of compromised boundary zone perfusion between the ventriculofugal and ventriculopetal arteries. This area is particularly vulnerable secondary to the increased metabolic demands of white matter undergoing myelination. Microscopically, PVL manifests early as geographic coagulative necrosis. As the lesion evolves, reactive astrocytes, activated microglia, and macrophages become prominent in the lesional rim (see the images below).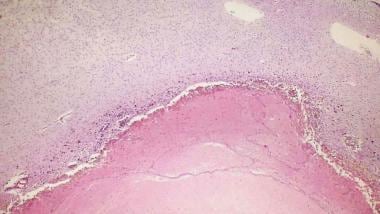 Periventricular leukomalacia is depicted. This cystic lesion, present in the cingulate cortex, is consistent with periventricular leukomalacia. Note the extensive hemorrhage within the cystic space as well as the hemosiderin-laden macrophages around the lesional rim.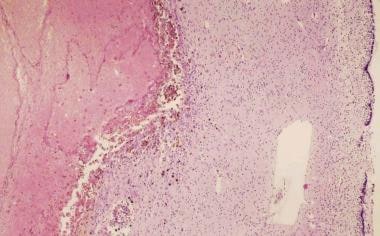 Periventricular leukomalacia is depicted. This figure depicts the lesion seen in the previous image at higher magnification. Extensive hemosiderin and reactive astrocytosis is present surrounding the lesion (center of field). Note the proximity of the lesion to the ependymal lining of the lateral ventricle (far right).
---
Did this answer your question?
Additional feedback? (Optional)
Thank you for your feedback!