Answer
An example of severe acute hypoxic-ischemic neuronal change with associated gliosis is shown in the images below.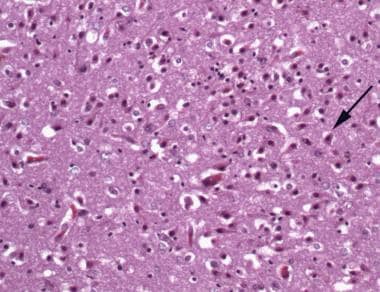 Severe acute hypoxic-ischemic neuronal change in the basal ganglia is noted. Histologic examination reveals severe hypoxic-ischemic neuronal change, characterized by the presence of pyknotic and hyperchromatic nuclei, the loss of cytoplasmic Nissl substance, and neuronal shrinkage and angulation (arrow). These alterations begin to appear approximately 6 hours following hypoxic-ischemic insult. Reactive astrocytosis is evident approximately 24-48 hours after the primary hypoxic-ischemic event.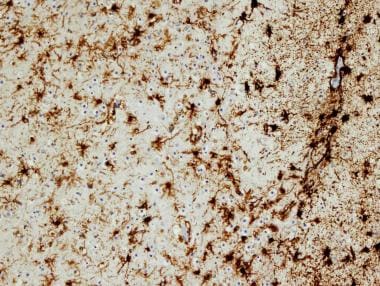 Significant astrocytosis in the basal ganglia following hypoxic-ischemic insult is observed. An immunohistochemical stain for glial fibrillary acidic protein (GFAP) was performed on the same tissue shown in the previous image to demonstrate the prominent gliosis secondary to the hypoxic-ischemic event. GFAP is a useful marker to study astrocytic response to injury. This gliosis of the basal ganglia, along with subsequent hypermyelination, is responsible for the evolution of status marmoratus over months to years.
---
Did this answer your question?
Additional feedback? (Optional)
Thank you for your feedback!