Answer
Following the initial phase of energy failure from the asphyxial injury, cerebral metabolism may recover following reperfusion, only to deteriorate in a secondary energy failure phase. This new phase of neuronal damage, starting at about 6-24 hours after the initial injury, is characterized by mitochondrial dysfunction, and initiation of the apoptotic cascade. This phase has been called the "delayed phase of neuronal injury."
The duration of the delayed phase is not precisely known in the human fetus and newborn but appears to increase over the first 24-48 hours and then start to resolve thereafter. In the human infant, the duration of this phase is correlated with adverse neurodevelopmental outcomes at 1 year and 4 years after insult. [13] See the image below.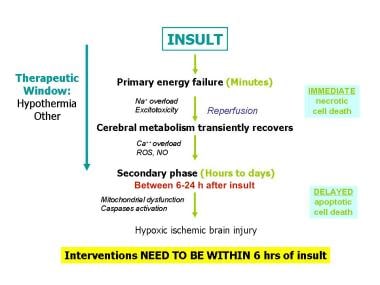 Pathophysiology of hypoxic-ischemic brain injury in the developing brain. During the initial phase of energy failure, glutamate mediated excitotoxicity and Na+/K+ ATPase failure lead to necrotic cell death. After transient recovery of cerebral energy metabolism, a secondary phase of apoptotic neuronal death occurs. ROS = Reactive oxygen species.
---
Did this answer your question?
Additional feedback? (Optional)
Thank you for your feedback!