Answer
Lesions often start as tiny focal areas that enlarge to white patches on oral mucosae (see the image below).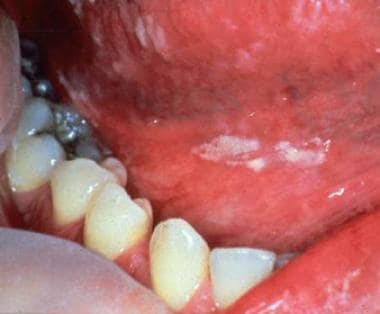 White plaques are present on the buccal mucosa and the undersurface of the tongue and represent thrush. When wiped off, the plaques leave red erosive areas. Courtesy of Matthew C. Lambiase, DO.
When scraped with a tongue blade, lesions are difficult to remove and leave behind an inflamed base that may be painful and may bleed.
Candidal infection in the diaper area may accompany thrush. Examine an infant with diaper dermatitis for oral lesions. [5]
Differentiate thrush from a coated tongue.
Thorough physical examination is critical, especially for patients with recurrent thrush and for older children. Pay attention to the child's growth, rash distribution, lymphadenopathy, hepatosplenomegaly, and other potential sites of infection (eg, mucocutaneous candidiasis [6, 7, 8] ).
---
Did this answer your question?
Additional feedback? (Optional)
Thank you for your feedback!