Answer
Plain films can verify a presumptive diagnosis or exclude other disorders causing stridor and hence, mimic croup. A lateral neck radiograph can help detect clinical diagnoses such as an aspirated foreign body, esophageal foreign body, congenital subglottic stenosis, epiglottitis, retropharyngeal abscess or bacterial tracheitis (thickened trachea). [19]
Most importantly, croup is a clinical diagnosis. Radiographs can be used as a tool to help confirm this diagnosis, but are not required in uncomplicated cases. [20] The anteroposterior (AP) radiograph of the soft tissues of the neck classically reveals a steeple sign (also known as a pencil-point sign), which signifies subglottic narrowing, whereas the lateral neck view may reveal a distended hypopharynx (ballooning) during inspiration (see the images below). [21] However, these x-ray findings may not be seen in up to 50% of children with clinical symptoms of croup.
A steeple sign may also be observed in patients without croup, which warrants other differential considerations for this radiographic finding, such as epiglottitis, thermal injury, angioedema, or bacterial tracheitis. [22] Patients should be monitored during imaging, because progression toward airway obstruction may occur rapidly.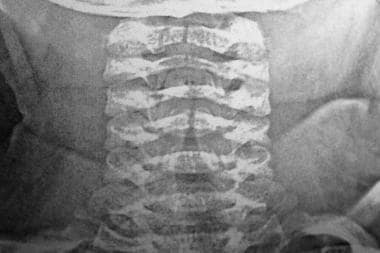 Steeple sign on radiograph.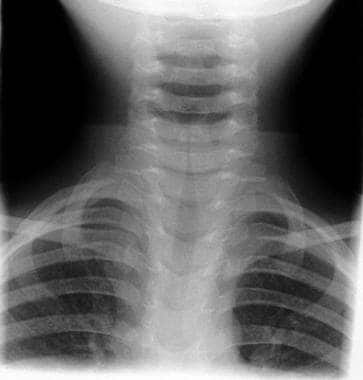 Child with croup. Note the steeple or pencil sign of the proximal trachea evident on this anteroposterior film. Courtesy of Dr. Kelly Marshall, CHOA at Scottish Rite.
---
Did this answer your question?
Additional feedback? (Optional)
Thank you for your feedback!