Answer
V cholerae is a comma-shaped, gram-negative aerobic or facultatively anaerobic bacillus that varies in size from 1-3 µm in length by 0.5-0.8 µm in diameter (see the image below). Its antigenic structure consists of a flagellar H antigen and a somatic O antigen. The differentiation of the latter allows for separation into pathogenic and nonpathogenic strains. Although more than 200 serogroups of V cholerae have been identified, V cholerae O1 and V cholerae O139 are the principal ones associated with epidemic cholera.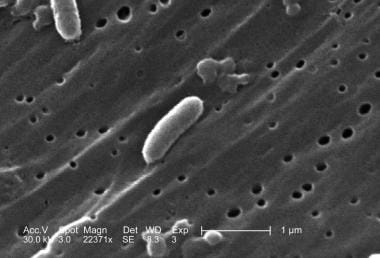 This scanning electron micrograph (SEM) depicts a number of Vibrio cholerae bacteria of the serogroup 01; magnified 22371x. Image courtesy of CDC/Janice Haney Carr.
---
Did this answer your question?
Additional feedback? (Optional)
Thank you for your feedback!