Answer
The presence of immunoglobulin antibodies to this virus in the serum of half of the adult population was established by epidemiological surveys, suggesting acquisition of immunity during childhood. Evidence of recent infection (viral antigen, immunoglobulin M [IgM]-specific antibodies to the virus) was first found in the blood of Jamaican children living in London, England, all of whom presented with transient aplastic crisis (TAC) of sickle cell disease. [3]
Later, Serjeant et al confirmed the close association of parvovirus and aplastic crisis in a large retrospective study of sera from sickle cell disease patients with this complication. [4] Later, human parvovirus B19 was shown to be the etiologic agent of erythema infectiosum in hematologically normal persons. [5, 6] Erythema infectiosum was originally named Fifth disease because it was the fifth of 6 classic exanthematous diseases of childhood to be described. Later, cases of nonimmune hydrops fetalis were reported when infection in a woman occurred during pregnancy [7] . Parvovirus B19 has also been associated with multiple other conditions. [8, 2, 5, 9, 10]
The images below provide examples of symptoms observed with parvovirus B19 infection.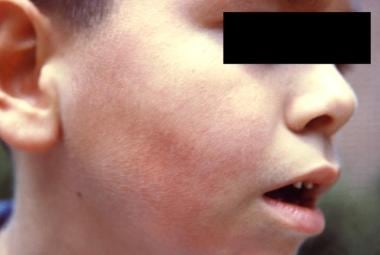 Note the right side of this boy's face displaying signs of erythema infectiosum, or Fifth disease. Image courtesy of CDC.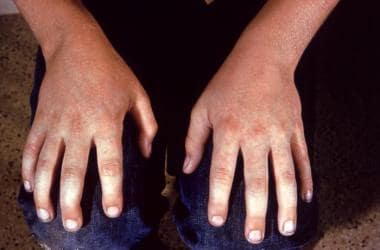 Elementary school child with Fifth Disease. Image courtesy of CDC.
---
Did this answer your question?
Additional feedback? (Optional)
Thank you for your feedback!