Answer
Leukocytosis refers to an increase in the total number of white blood cells (WBCs) due to any cause. From a practical standpoint, leukocytosis is traditionally classified according to the component of white cells that contribute to an increase in the total number of WBCs. Therefore, leukocytosis may be caused by an increase in (1) neutrophil count (ie, neutrophilia), (2) lymphocyte count (ie, lymphocytosis), (3) monocyte count (ie, monocytosis), (4) eosinophilic granulocyte count (ie, eosinophilia), (5) basophilic granulocyte count (ie, basophilia), or (6) immature cells (eg, blasts). A combination of any of the above may be involved.
The image below is an illustration of high and low WBC counts.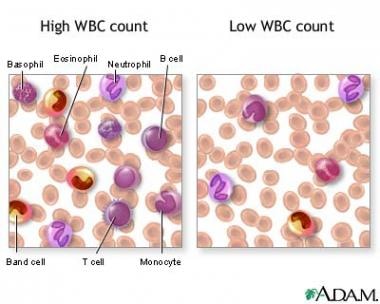 WBC counts.
Neutrophilia is divided into four categories based on the mechanism of neutrophilia: (1) increased production, (2) decreased egress from vascular space (demargination), (3) increased mobilization from the marrow storage pool, and (4) reduced margination into the tissue.
Clinically, dividing leukocytosis on the basis of its causes is more convenient. By dividing it according to causes, leukocytosis can be immediately applied for diagnostic purposes. Leukocytosis can be caused by infection, inflammation, allergic reaction, malignancy, hereditary disorders, or other miscellaneous causes.
---
Did this answer your question?
Additional feedback? (Optional)
Thank you for your feedback!