Answer
A study by Yilmaz and Gunaydin indicated that in the absence of major acquired risk factors, patients under age 45 years with venous thromboembolism (VTE) commonly have inherited risk factors for the condition. The study involved 58 VTE patients under age 45 years, 45 of whom had at least one inherited risk factor, including 14 with antithrombin III deficiency. (Factor V Leiden mutation was the most common risk factor, occurring in 30 patients.) [4]
See the image below.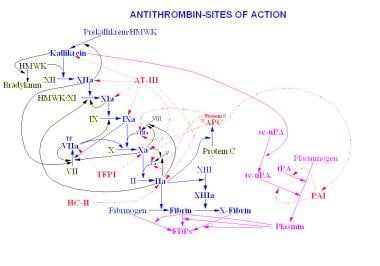 Antithrombin (AT) sites of action.
Antithrombin III deficiency is usually inherited in an autosomal dominant fashion.
Several different genetic abnormalities have been identified in separate kindreds. The defects most frequently affect the proteins translation or post-translational processing, which results in decreased functional antithrombin III.
Two types of antithrombin III deficiency have been described. Type I (classic) is the result of decreased synthesis of biologically normal antithrombin III, resulting in quantitative deficiency of the enzyme; thus, both antigen and activity levels are similarly low. Type II (functional) is the result of a discrete molecular defect within the antithrombin III itself, resulting in a normal antigen level associated with a reduction in heparin cofactor activity levels of about 50%.
Two functional assays for antithrombin III deficiency identified two separate subclasses of the type 2 defect. The assays are the antithrombin-heparin cofactor activity and the progressive antithrombin activity. The first measures the ability of heparin to neutralize the enzymatic activity of thrombin and factor Xa and the second measures the ability of antithrombin III to neutralize thrombin in the absence of heparin. Heterozygotes of type 2 antithrombin III deficiency that exhibit diminished levels of both thrombin-heparin cofactor and progressive antithrombin activity level usually carry a mutation near the thrombin binding site (active site), while those with diminished thrombin-heparin cofactor and normal progressive antithrombin activity are carriers of a defect in the heparin binding site. The distinction between the two is clinically important, since the second group of patients rarely develop any symptoms unless they are homozygous for the defect; then they will have significant thrombotic events early in life and their thrombin-heparin cofactor level will be less than 10%. Both parents will be affected.
---
Did this answer your question?
Additional feedback? (Optional)
Thank you for your feedback!