Answer
Discography (see image below)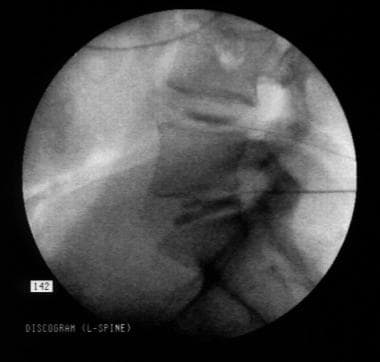 Discogram showing examples of an intact disc and a disrupted disc at the lumbar level.
Discography is rarely necessary in the evaluation of acute LBP, and it is certainly not recommended within the first 3 months of treatment. Discography studies can be helpful in patients whose condition has not had a satisfactory response to a well-coordinated rehabilitation program or who have normal or equivocal MRI findings. In such cases, discography may have some benefit in localizing a symptomatic disc as the etiology of nonradicular back pain. (See also the Medscape Reference article Discography.)
---
Did this answer your question?
Additional feedback? (Optional)
Thank you for your feedback!