Answer
In 1942, Klinefelter et al published a report describing nine men with a constellation of features: testicular dysgenesis, microorchidism, eunuchoidism, gynecomastia, elevated urinary gonadotropins, and azoospermia. [1] The etiology was thought to be due to an endocrine disorder of unknown cause, until 1959, when Jacobs et al recognized that Klinefelter syndrome was a chromosomal disorder in which there is an extra X chromosome, resulting in the karyotype 47,XXY. [2]
Today, the term Klinefelter syndrome (KS) refers to a group of chromosomal disorders in which the normal male karyotype, 46,XY, has at least one extra X chromosome. XXY aneuploidy, the most common human sex chromosome disorder, has a prevalence of 1 in 500 males. [3] It is also the most common chromosomal disorder associated with male hypogonadism and infertility.
Other sex chromosomal aneuploidies are included in the KS group of chromosomal disorders. Arising less frequently, 48,XXYY and 48,XXXY occur in 1 per 17,000 to 50,000 male births, while 49,XXXXY has an incidence of 1 per 85,000 to 100,000 male births. [3]
Klinefelter syndrome is characterized by hypogonadism (micro-orchidism [small testes], oligospermia/azoospermia), gynecomastia in late puberty, hyalinization and fibrosis of the seminiferous tubules, elevated urinary gonadotropin levels, and behavioral concerns.
Images of phenotypic features seen in Klinefelter syndrome are shown below: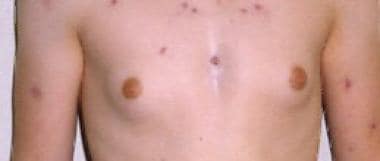 Adolescent male with gynecomastia and Klinefelter syndrome.

Child with Klinefelter syndrome. Other than a thin build and disproportionately long arms and legs, the phenotype is normal.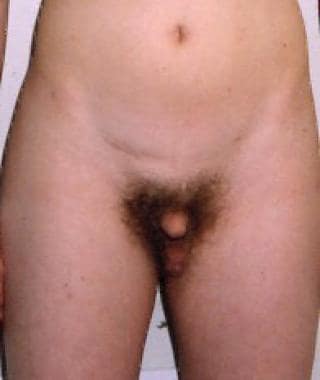 Adolescent male with Klinefelter syndrome who has female-type distribution of pubic hair and testicular dysgenesis.
---
Did this answer your question?
Additional feedback? (Optional)
Thank you for your feedback!