Answer
Newborns with Down syndrome have lower birth weight, length, and head circumference compared with control newborns. Growth parameters continue to be low up to puberty. Growth charts for children with Down syndrome have been published. [32] Failure to thrive is common in infancy, especially in patients with cardiac and gastrointestinal problems. Short stature occurs during adolescence and may be especially severe in patients with congenital heart disease. The exact etiology of growth retardation in Down syndrome is unknown; however, a deficiency of insulinlike growth factor 1 (IGF-1) has been described in some studies. [33] Obesity usually starts in early childhood, and up to 50% of adults may be obese. Obesity is thought to be related to a reduced metabolic rate. [34]
Broad, short hands, feet, and digits; a short curved fifth finger (dysplasia and shortening of the midphalanx) or clinodactyly of the fifth finger with a single flexion crease; dysplasia of the pelvis (a shallow acetabular angle with small iliac wings); joint laxity; a wide gap between the first and second toes (see the image below); and atlanto-occipital instability are typical presentations.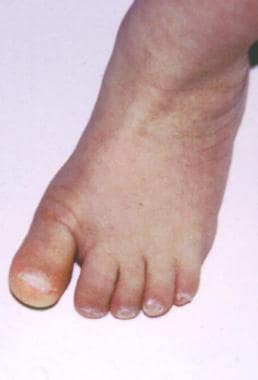 Wide gap between first and second toes and onychomycosis in patient with Down syndrome. Image courtesy of L. Dourmishev, MD, PhD, DSc.
---
Did this answer your question?
Additional feedback? (Optional)
Thank you for your feedback!