Answer
Characteristic features include a (relatively) small mouth with a tendency for tongue protrusion, a fissured and furrowed tongue, mouth breathing with drooling, a chapped lower lip, angular cheilitis, partial anodontia (50%), tooth agenesis, malformed teeth, delayed tooth eruption, microdontia (35-50%) in both the primary and secondary dentition (see the image below), hypoplastic and hypocalcified teeth, malocclusion, taurodontism (0.54-5.6%), and increased periodontal destruction. Cleft lip or palate may occur but is rare.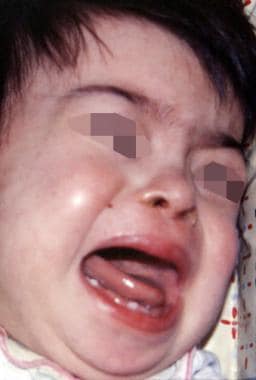 Hypodontia in patient with Down syndrome. Image courtesy of L. Dourmishev, MD, PhD, DSc.
---
Did this answer your question?
Additional feedback? (Optional)
Thank you for your feedback!