Answer
The aim of surgical treatment is to remove the tumor in its entirety, including a surrounding margin of normal tissue, when the tumor is resectable without the patient experiencing functional or cosmetic impairment. At present, there is no role for tumor debulking in surgical therapy for RMS.
First, the surgeon must obtain a tissue diagnosis. The initial surgical intervention may consist either of wide local excision or of incisional or excisional biopsy. Incisional biopsies should be planned to ensure that the scar does not impede later attempts at resection, particularly in the case of extremity tumors. Thus, biopsy incisions on the extremity should always be longitudinal. (See the image below.) Patients in whom margins are positive or of unknown status should be considered for reexcision.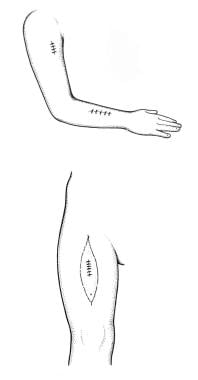 Proper orientation of the biopsy allows complete resection at second operation.
Anesthetic administration should be planned to incorporate any procedures that the child will need. For example, the surgeon should discuss the possible need for a central venous line, bone marrow aspiration, lymph node evaluation, and biopsy with the oncologist, the patient, and the family, so that, if necessary, all procedures can be performed on the same day.
Thorough preoperative planning is essential because of the various surgical options that may be necessary in children with RMS, and the surgeon should take into consideration the possibility of obtaining clear margins when determining the initial surgical approach. In the event of resection after chemotherapy and RT, if the surgeon is unsure that complete excision can be achieved safely, placement of brachytherapy catheters or administration of intraoperative RT may be discussed before operative intervention.
Unlike adult sarcoma, pediatric RMS may be present in the lymphatics in approximately 40% of cases. Accordingly, it is important to evaluate the lymphatics in all children with RMS. This is best performed at the time of the initial procedure, particularly if lymphatic mapping with SLNB is planned, because prior biopsy or excision may disrupt the lymphatics.
Surgical options for evaluating the lymphatics include aggressive node sampling and SLNB (see the image below). Formal lymph node dissection is not recommended, because it has not been shown to significantly improve survival, even in patients with histologically positive nodes.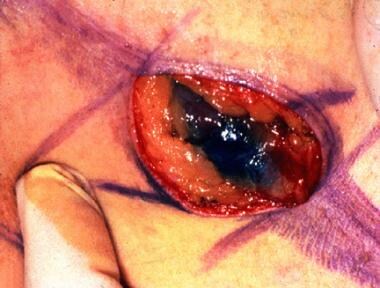 Sentinel node biopsy after lymphatic mapping in a child with rhabdomyosarcoma. Notice that the incision is oriented to allow extension or incorporation of the incision should further dissection be necessary. The sentinel node should be blue and should have high counts of radioactive tracer signal when checked with the gamma probe.
Exceptions to wide local excision include head and neck tumors, vaginal/uterine tumors, and bladder tumors.
---
Did this answer your question?
Additional feedback? (Optional)
Thank you for your feedback!