Answer
Abdominal rectopexy (75% success rate) can be safely performed either laparoscopically or through an open approach. In this procedure, the perirectal tissues are attached to the presacral fascia to assure correct anatomic positioning and tissue adherence. Fixation can be done with direct sutures or with prosthetic material, such as polypropylene mesh (Ripstein procedure; see the first and second images below) or an Ivalon sponge (see the third image below).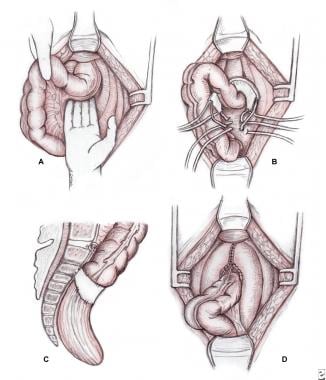 Ripstein procedure is designed to maintain normal posterior rectal curvature by attaching it to the presacral fascia, thus avoiding the straight tube that intussuscepts during straining. (A) Rectum is mobilized down to the coccyx. (B) Marlex mesh is placed around rectum while this is tensed upward and sutured to the presacral fascia with nonabsorbable sutures. Mesh loop must be loose enough to prevent postoperative constipation. (C) Sagittal view shows suspended rectum. (D) Peritoneum is closed with a continuous absorbable suture.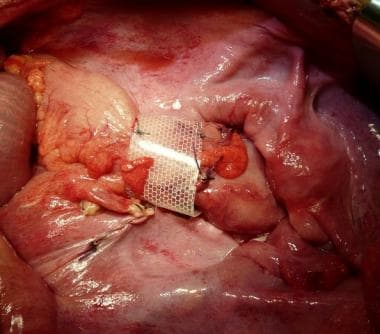 Intraoperative photograph of a 12-year-old girl with recurrent rectal prolapse and mucosal ulceration with profuse bleeding. She had a long sigmoid colon, which was resected; end-to-end anastomosis was performed. This photograph depicts anastomosed rectum fixed to presacral fascia with mesh. Non-absorbable sutures retain the mesh to the serosa. Note that the mesh is slightly loose to allow for child's growth. Uterus and its ligaments can be seen in front of rectum. Iliac vessels remain intact on each side.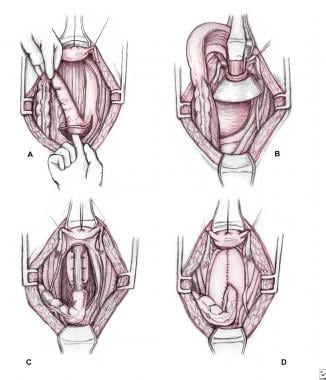 Ivalon sponge procedure. (A) Rectum is mobilized. Meticulous hemostasis is mandatory to prevent hematoma that predisposes patient to prosthetic material infection. (B) Ivalon rectangular sponge made of polyvinyl alcohol is sutured to sacral periosteum. (C) Rectum is retracted upward, and sponge is wrapped around it and tied to the anterior sacral surface. A portion of the anterior rectal wall is left free to prevent luminal obliteration. (D) Peritoneum is closed with continuous absorbable suture.
This procedure has a high success rate for prolapse control (approximately 75%), and incontinence is improved in 60% of patients, although as many as 60% of patients have postoperative constipation. It might be wise to close the peritoneum over the mesh to isolate it from the abdominal cavity.
---
Did this answer your question?
Additional feedback? (Optional)
Thank you for your feedback!