Answer
The Thiersch, or sling, procedure uses synthetic materials to create a perianal sling to support the rectum. It has a success rate of about 90%. This procedure is a good choice for children since it can be done with self-absorbing sutures to provide temporary relief of symptoms until the base pathology is managed. It is considered a palliative procedure since it does not cure the prolapse itself. In adults, it is associated with high recurrence rates.
Perianal sutures are subcutaneously placed as a cerclage (see the image below). The principle is to create a mechanical barrier to contain the prolapse and provoke an inflammatory response on the perirectal tissues to generate a fibrous ring rather than a toneless sphincter.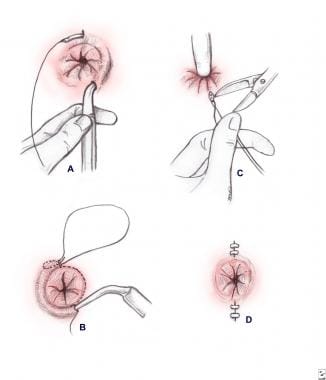 Thiersch procedure. Perianal subcutaneous sutures create mechanical barrier for prolapse.
Modifications involving the use of knitted polypropylene mesh (Marlex mesh) or other nonabsorbing materials have been described (see the image below). [55] Patients should be followed until the wire is removed. Advantages include simplicity, effectiveness, and safety. Disadvantages are poor tolerance, rigidity, breakage, and infection. Infection has always been described as local and superficial, although a case of infection spreading to the scrotum was described by Saleem and Al-Momani. [56] Chauhan et al described a modification by placing three Thiersch sutures circumferentially along the anal canal in a recurrent case of rectal prolapse. [57]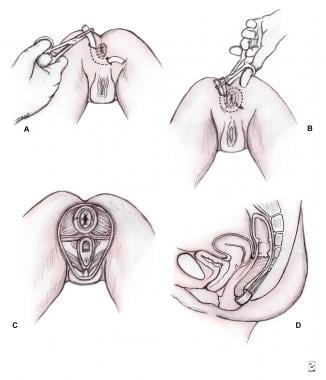 Lomas and Cooperman modified the Thiersch procedure by performing right anterior and left posterior radial incisions, encircling the anus with a Marlex mesh stripe, and tying it around a finger placed on the anal canal. Care must be taken to avoid perforating the posterior vaginal or anterior rectal walls. The skin is closed, and the mesh left subcutaneously.
---
Did this answer your question?
Additional feedback? (Optional)
Thank you for your feedback!