Answer
Frequently, physical examination findings are normal. Parents provide a history of a dark or bright-red mass protruding from the child's anus, although the child appears to be pain free or in minimal discomfort.
Because most prolapses spontaneously reduce before arrival for evaluation, a brief examination of the patient in a sitting or squatting position and observation for recurrence of prolapse is recommended. (Other positions, such as jackknife or left lateral decubitus are frequently inadequate to reproduce the prolapse.) Images taken by the caretaker during an acute episode aid in confirming the diagnosis.
The prolapsed rectum is a pouting, swollen rosette. In false or mucosal prolapse, the mucosa shows radial folds at the anal junction, whereas a full-thickness or complete prolapse has circular folds (see the images below). If the prolapse is present upon examination, feeling the prolapsed mucosa between fingers allows the examiner to distinguish between mucosal and full-thickness rectal prolapse.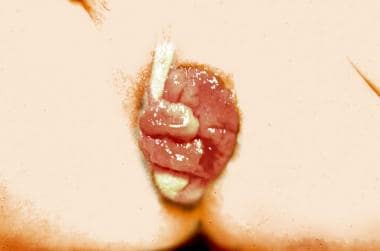 Image demonstrates mucosal prolapse, with radial folds seen on mucosa.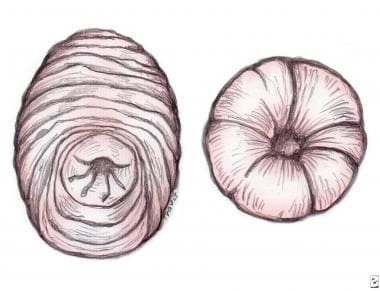 Diagram depicting clinical difference between true (full-thickness) prolapse (left), including all layers of rectum, with circular mucosal folds, and mucosa-only prolapse (right), in which radial folds are seen.
A prolapsed rectal polyp appears as a plum-colored mass that does not involve the entire anal circumference.
Digital examination can also distinguish prolapse from rectal intussusception. In the case of prolapsed intussusception, a finger can be passed into the space between the anal wall and the protruding mass. With rectal prolapse, inserting a finger into this space is not possible.
---
Did this answer your question?
Additional feedback? (Optional)
Thank you for your feedback!