Answer
Rectal prolapse presents as a red ring of rectal mucosa protruding through the anus after straining (see the image below). It is often associated with tenesmus and mucus or bloodstained clothing. Constipation is present in 25-50% of individuals; up to 75% of patients have fecal incontinence.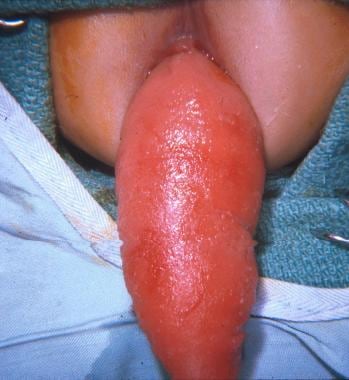 Photograph of severe rectal prolapse with clinically significant edema and mucosal ulceration.
Prolapse initially occurs with defecation and straining, but as the pelvic floor musculature becomes more lax, it can recur with the mildest straining, in upright position, or even spontaneously at rest. Most cases reduce spontaneously; however, the parents (or patient) may need to manually reduce the prolapsed bowel.
---
Did this answer your question?
Additional feedback? (Optional)
Thank you for your feedback!