Answer
Rectal prolapse refers to the extrusion of some or the entire rectal wall through the external anal sphincter.
Although less common in Western societies, pediatric rectal prolapse is a relatively common benign disorder in children. However, without proper treatment, it can become a lifestyle-limiting, chronic condition. Most cases are self-limiting, with prompt resolution after conservative measures aimed at correcting the associated underlying process.
In children, rectal prolapse should always be considered a presenting sign of an underlying condition, and not a disease entity unto itself.
Rectal prolapse starts as a mucosal extrusion from the mucocutaneous junction, which may eventually progress to full-thickness prolapse. It is one of the first surgical entities ever described in medicine. (see the image below).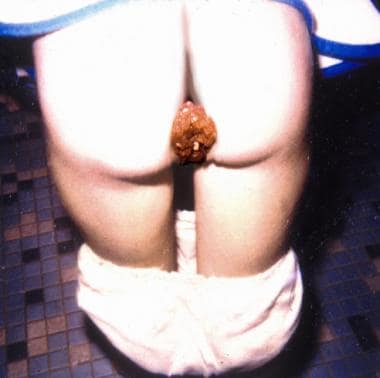 Image of young patient with full-thickness rectal prolapse with multiple circular folds seen on exposed mucosa.
Rectal prolapse and its etiology were first described in 1912 by Moschcowitz. Rectal prolapse in childhood was first highlighted in 1939 by Lockhart-Mummery, [2] who attributed the condition to malnutrition and careless nursing, but also acknowledged diarrheal and wasting illnesses as contributing factors. Lockhart-Mummery's preferred operative treatment was linear cauterization of the prolapsed rectum, with recurrences treated by 5% phenol injection.
Loss of the normal sacral curvature that causes a vertical tube between the rectum and the anal canal has been described as a causative factor. Straining during defecation predisposes children with constipation, diarrhea, or parasitosis to prolapse, as does childhood laxative usage. About 60-70% of patients have fecal incontinence. [3] The prolapse can spontaneously reduce or may require digital reduction.
---
Did this answer your question?
Additional feedback? (Optional)
Thank you for your feedback!