Answer
The traditional and most reliable way to make the diagnosis of intussusception in children is to obtain a contrast enema (either barium or air). Contrast enema is quick and reliable and has the potential to be therapeutic. [24] (See the images below.)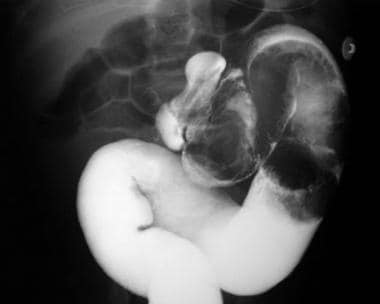 Barium enema shows intussusception in the descending colon.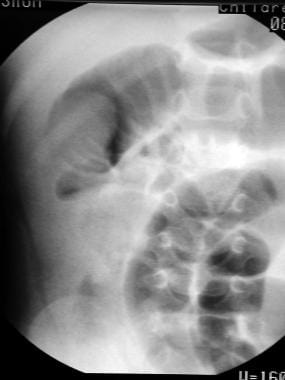 Intussusception evident during air contrast enema prior to reduction. Courtesy of Kelley W Marshall, MD, Children's Healthcare of Atlanta, Emory University School of Medicine.
Exercise caution when performing contrast enema in children older than 3 years, because most of these patients have a surgical lead point, usually in the small bowel. The diagnostic and therapeutic yield of the enema is lower in these patients. Enema is contraindicated in patients in whom bowel gangrene or perforation is suspected.
---
Did this answer your question?
Additional feedback? (Optional)
Thank you for your feedback!